THE BAKER FAMILY

The lineage of the Baker family can be traced back to the time of Edward III, when the family settled at Cranbrook, in Kent. One of the descendants was Thomas Baker of Sissinghurst, Cranbrook, Kent (died 1497). He was the father of Richard Baker, who lived during the reign of Henry VII, who had married a woman by the name of Joan, and who died in 1504. His son was Sir John Baker, who followed the legal profession and also became an ambassador to Denmark. When he returned from this assignment, he became Speaker of the House of Commons and later attorney-general. Henry VIII later made Sir John chancellor of the Exchequer. He was privy counselor to Henry VIII and upon his death served in that office to the son, Edward VI, and the daughters Mary and Elizabeth as they took the throne. Sir John (1488-1558) married Elizabeth Barrett (1500-1550--daughter and heir of Thomas Dingley, and widow of George Barret). One of Sir John's children was John, of London, who married Catharine, daughter of Sir Reginald Scott, knt. of Scott's Hall.
When Sir John died in 1558, he was interred at Sissinghurst and the estate passed on to his eldest son, Sir Richard Baker (1528-1594). Before he died, Sir John had expanded his small inheritance to include various parts of Kent and Sussex and at his death held over 40 manors. Queen Elizabeth, on one of her many trips she took during her lifetime around her kingdom, stopped at Sisinghurst. Sir John's daughter Cecily married into the Sackville family when she wed Thomas, 1st Earl of Dorset, Queen Elizabeth's Lord Treasurer. It should be mentioned that while the line presented below flowed into a different direction from Sissinghurst, to the North American continent, the history of the ancestral home has taken many twists. The Civil War in England made it difficult for the upper classes, who had to take one side or the other. At the time the war occurred, Sir John Baker, Sheriff of Kent, took the King's side, and paid for this by having to appeal for forgiveness under the Deed of Amnesty. Parliament eventually restored his estates but he was deep in debt. Over the years the manor declined as the estates were divided up. It was not until April of 1930 that Vita Sackville-West, a direct descendant through the above mentioned Cecily, her husband Harold Nicolson and and their son Nigel Nicolson, visited the property out of curiosity. Despite its run down condition, they fell in love with the place, and bought it. It took many years for them to clean up the rubbish that had accumulated, to plan a garden and make a habitable home. Vita Sackville-West died at her beloved Sissinghurst in June of 1962 and eventually, in April of 1967, Sissinghurst was turned over to the National Trust and is open to the public for a portion of the year. Nigel Nicolson lived at his ancestral home until his death on September 23, 2004.
John Baker, son of Sir John
John Baker was born in 1548 and married Catherine, born in 1550, daughter of Sir Reginald Scott of Scots Hall, Kent, England.
Sir Richard Baker, grandson of Sir John and son of John
Sir Richard was born in 1568 at Sissinghurst, Kent, England, and died in 1645. He was knighted in 1603. Sir Richard married Margaret Mainwaring. Sir Richard was the author of "Chronicle of the Kings of England". This popular printing was first published in 1641 and went into nine editions before 1696. Sir Richard possessed the manor of Middle Aston, and other estates in Oxfordshire and served the office of high sheriff for that county in 1620. He bore the burden, however, of some debts of his wife's family, and died on Feb. 18, 1645 and was buried in St. Bride's Church, Fleet Street. From the book by Andrew Kippis, Biographia Brittanica, "....his mother was Catherine, daughter of Sir Reynold Scot of Scotts Hall in Kent, Knight, and his father John Baker of London, Gentleman, a younger son of Sir John Baker of Sissingherst.....Knight, Chancellor of the Exchequer, and one of the Privy-Council to King Henry VIII. Our auther was entered a Commoner of Hart Hall in Oxford, in 1584; and matriculated in Michaelmas-term the same year, being in the sixteenth year of his age. After he had spent in this place about three years, in the study of Logic and Philosophy, he went to one of the Inns of Court, and compleated his education by travelling into foreign parts; nothing being omitted by his parents to render him an accomplished gentleman. In 1594, after the celebration of a solemn act, he was, with other persons of quality, created Master of Arts at Oxford; and in May, 1603 he received the honour of knighthood from King James I at Theobalds. At that time, he lived in Highgate near London, and was esteemed a most compleat and learned person. In 1620 he was a High Sheriff of Oxfordshire, being possessed of the manor of Middle Aston and other estates in that county and was also a Justice of the Peace for the same. He married Margaret, daughter of Sir George Mainwaring of lghtfield in Shropshire, Knight, which marriage caused him a great deal of trouble, and involved him into inextricable difficulties. For, engaging unwisely for the payment of some of that family's debts, he was thereby reduced to poverty and forced to betake himself for shelter to the fleet prison, where he composed several books; and so reaped in his old age, the benefit of his learning, when his considerable estate, through surety-ship, was very much impared. At length, after a life full of troubles and cares he died very poor in the Fleet prison in London, February 18, 1644-45 and was buried the next day about the middle of the fourth isle of St Bride's Church in Fleetstreet. He was a person tall and comely, of good disposition and admirable discourse, religious and well read in various faculties, especially in Divinity and History."
Margaret Mainwaring, born in 1570, married Sir Richard in 1597. Margaret could trace her ancestry back to Robert I, Duke of Normandy. Robert's son was William the Conqueror and his son was King Henry I. King Henry's only son died in a shipwreck and his daughter Matilda, who had been Empress of Germany, was forced to marry Geoffrey IV, the first Plantagenet, so called because of the sprig of flower, which he wore. He was much younger than Matilda, and their son became King Henry II, who married Eleanor of Aquitaine, the only woman to have the distinction of being Queen of both France and England. The line continued as follows:
King John I, who lived from Dec. 24, 1166 to Oct. 19, 1216, and who married Isabella de Taillefer
King Henry III, who lived from Oct. 1, 1206 through Nov. 16, 1272 and married Eleanor of Provence
King Edward I, called Longshanks, who lived from June 16, 1239 to July 7, 1307 and who married Eleanor of Castile, daughter of Ferdinand III of Spain. Eleanor was born in 1244 and died Nov. 29, 1290.
Sir Gilbert de Clare (Sept. 2, 1243 to Dec. 7, 1295), who married Joan of Acre April 30, 1290 in Westminster Abbey. Joan was born in 1272 and died April 23, 1307. It was Sir Gilbert who, as one of King Edward I top lieutenants, was instrumental in helping to conquer Wales. When the Welsh were finally defeated, Edward I gave the hand of his 7th child to Sir Gilbert in marriage. It was Sir Gilbert, Earl of Gloucester and Lord of Glamorgan, who built Caerphilly Castle in Wales, begun in 1268. This castle, nine miles north of Cardiff, is now in some disrepair, but the remains are of the largest castle in Wales, nearly 30 acres. It was built so as to combine water and land defenses, making it very secure against attack.
Alianore (Eleanore), daughter of Sir Gilbert de Clare and Joan of Acre, born in October of 1292 and died June 30, 1337, married Hugh le Despenser, born about 1287 and died Nov. 29, 1326. Hugh le Despenser was a favorite of Edward II and very unpopular with the people. He succeeded his father-in-law as Earl of Glamorgan. He used his influence with Edward II to increase his holdings; and in 1321 the local barons united and attacked him and captured Caerphilly Castle. Edward II came to the rescue of Hugh and put down the revolt. However, Edward II's wife Queen Isabella led a band of exiled nobles against Edward, and he fled to Caerphilly Castle. The Queen and her army besieged Caerphilly in 1326-1327. Finally Edward II and Hugh le Despenser were captured and killed, Edward's son Edward was made King Edward III.
Edward le Despenser, born in 1307 and died Sept. 30, 1342, who married Anne de Ferrers, born about 1315 and died in August of 1337.
Edward le Despenser, born March 24, 1335, and died Nov. 11, 1375, Lord Glamorgan, married Elizabeth de Burghersh, born in 1342 and died July 25, 1409.
Robert de Ferrers, born October 31, 1357 and died March 12, 1412, Lord Chartley, who married Margaret le Despenser, birth date unknown, who died Nov. 3, 1415.
Edmund de Ferrers, born 1387 and died Dec. 17, 1435, Lord Chartley, who married Ellen Roche, Lady Bromwich, birth date unknown, who died Nov. 4, 1440.
Baron William de Ferrers, born in 1412 and died June 9, 1450, who married Elizabeth Bealknap, birth date unknown, who died May 28, 1471.
Walter Devereux, born in 1432 and died Aug. 22, 1485, Lord Ferrers, who married Anne de Ferrers, born in Nov. of 1438 and died Jan. 9, 1468, Lady Chartley.
Sir Richard Corbet, born in 1451 and died Dec. 6, 1493, who married Elizabeth Devereux, birth date unknown, who died in 1541.
Sir Robert Corbet, born about 1477 and died April 11, 1513, who married Elizabeth Vernon, birth date unknown, who died March 29, 1563.
Sir Richard Mainwaring, born about 1494, and died Sept. 30, 1558, who married Dorothy Corbet.
Sir Arthur Mainwaring, born 1520 and died Sept. 4, 1590, was knighted in 1547. He married Margaret Mainwarring about 1540. Margaret, daughter of Randell (Randolph) Mainwarring and Elizabeth Brereton, was born about 1521 and died before 1591
Sir George Mainwaring married Anne Moore. He was born before 1551 at Ightfield, Salop and died in 1628. In 1608, he was the High Steward of Wem. Anne Moore was the daughter of Sir William Moore of Lassley County, Surrey. When Sir George married Anne, he acquired with her a good estate at Chertsey.
Margaret Mainwaring married Sir Richard Baker (1568-1645). From the Biographia Britannica by Andrew Kippis: "...by his wife Margaret...he had issue Thomas, Arthur, Cecilia, Ann, Margaret, &c." The notation "&c." may indicate more children, and if so, one of these may have been John Baker, born 1598 and died April 25, 1672.
Thomas Baker, who married Ann (surname unknown)
While the Baker family was originally English, Thomas moved to Ireland, and after the Great Rebellion of 1641, settled in Lattimore, County Tipperary. Thomas died in January, 1642. His descendants later bought the estates of Lismacue in 1705. The beautiful home, built in 1813, has been restored and today is operated as a bed and breakfast. As presented in the brochure for this bed and breakfast, "Lismacue is a classic and beautifully proportioned Irish country house. It lies in its own extensive grounds at the foot of the magnificent Galtee Mountains. The house itself is approached via one of the most impressive lime tree avenues in Ireland. Your first glimpse of Lismacue House, as you breast the avenue's hill, will live with you forever, as its timeless beauty takes your breath away."
Walter Baker, born 1623 at Ballm Collagn, Tipperary, Ireland, and died in 1669. He married Mary Osborne.
Richard Baker of Lattimore, County Tipperary
William Baker
William married Margaret Massey July 17, 1700, and was high sheriff of Tipperary in 1726. William was born in 1676, Doonass Clare, Ireland. He purchased the estate Lismacue in 1705.
Godfrey Baker of Cork
Godfrey was born in Tipperary County, Ireland. He was a merchant, active in the affairs of Cork--he was a water bailiff and alderman, and from 1769 to 1770 he was Mayor of Cork. The Cork Directory for 1787 shows him as a water bailiff on the south mall. Godfrey married, in 1744, Elizabeth, daughter of Peter Cossart of Cork (c1693-1744) and Elizabeth Perdrian.
The children of Godfrey Baker of Cork and Elizabeth Cossart were:
1.) Godfrey Evans, born July 4, 1750 and died in 1786. He married Margaret Massey (1759-1838), daughter of Hugh, 1st Lord Massey. His son was Godfrey Hugh Massey, born May 4, 1786 and died January 1, 1877. Godfrey Hugh Massy was of Grove Hill Chislet Kent.

Godfrey Hugh Massy Baker
Godfrey had a daughter Eleanor, who married Coxwell Rogers of Dowdeswell, Gloucester on September 5, 1848. Eleanor died 1894.

2.) Peter, who never married. From the Cork Advertiser: 22 May, 1813: "On Saturday at his house in Aungier St., Dublin, Peter Baker, Esq., attorney at law".

3.) William Massy, of Glanmire, who married Margaret Davies in 1807. He died in 1820. They had two children: Godfrey, who married Marie Oliver and in turn had a son, Godfrey; and Miriam, who married Frances Rentel.

4.) Elizabeth, who married Nicholas Wrixon on September 13, 1776 (note: the marriage license reflects the groom's name as "Richard".) From the Dublin Hibernian Journal, a Dublin newspaper, 25 Sept., 1776: "A few days ago at Corke Nicholas Wrixon to Miss Eliza Baker, daughter of Godfrey Baker, Esq."

5.) Catherine, who married Thomas Pope in 1797 in the Diocese of Cork & Ross, County Cork, Ireland. From the Hibernian Chronicle, a Cork newspaper, 23 Jan., 1797: "Last Saturday Thomas Pope Esq., attorney to Miss Baker, daughter to the late Alderman Baker".

Following is a brief digression to present the Cossart lineage of Elizabeth, wife of Godfrey Baker and daughter of Peter Cossart and Elizabeth Perdrian or Perdriau Cossart. (To jump directly to the continuation of the Baker line, click here)

Information presented below on the Cossart Family was taken from the chapter "Cossarts of Rouen", from the History of the Cossart and Allied Families by C.E. Cossart, 1947, found in the Family History Library of the Church of Jesus Christ of Latter Day Saints, Call Number 929.294 C822a. Some data contained in the above Cossart history may have been copied from a book published in 1923 - "The Early Generations Of The Du Pont & Allied Families;" by Colonel Henry Algernon Du Pont 1838-1926 (664 pages in two volumes). Chapter 19 of the Du Pont book is dedicated to the "The Cossarts" and includes all of the info published by C. E. Cossart in 1947.

The Cossart line goes back to 1429 in Rouen, France, where Pierre Cossart, of the parish of St. Jehan, was a maker of weights and scales. The ancestor of the Cossart line that married into the Baker line was Thomas Cossart, who lived in Rouen in 1514 and married Jehanne Fleury. Thomas and Jehanne had eleven children. He brought his sons into his business of dyes--dying yarns and cloth, which business had brought him wealth. He purchased two "seigneuries" for his two sons: for Thomas, he purchased the Seigneurie de Franqueville and for the younger son Jehan he purchased the Seigneurie de Boschestre. During this time, the Huguenots were gaining popularity and while both sons had been raised Catholic, Thomas left the Catholic Church and joined the Huguenots. When the Reformation came, the Cossarts were split--some remained Catholic and some Huguenots. Most of those who had joined the Huguenots ended up leaving France due to religious persecution.

Jehan, Thomas' second son, born about 1500, married Jacquette Puchot, who was born about 1511, daughter of Nicholas Puchot (c1455 to c1529) and Alizon Fere (c1488-1554). They married in December of 1529 or early in 1530. Jehan, through his own labor during his working life, amassed a fortune of his own in addition to the wealth inherited from his father. Jehan and Jacquette had twelve children, three of whom left the Catholic church to become Huguenots. The third son, Jacques, who married Marguerite Toustain, became the head of the Huguenot branch of the Cossart family in Rouen. Jehan, or Jacques, died in June of July of 1585. The twelve children of Jehan (Jacques) and Jacquette Puchot Cossart were as follows:

1.) Noel, born about 1530, who married Catherine Le Roux on April 22, 1560 at St. Vivien. They had one son and one daughter. Noel joined the Huguenots. He died September 17, 1572. 2.) Guillaume, born about 1532, who never married. Guillaume died in 1611 in Boissiere Le Roy, France. 3.) Marguerite, born about 1534, who married Gilles Vauquier. She died before 1611. 4.) Marie, born about 1536, and married Estienne Asselin (1532-1617) about 1562. They had eight sons and two daughters. Marie remained Catholic and died on February 1, 1598. 5.) Jacques, born about 1538, who joined the Huguenots. See below for continuation of this line. 6.) Vincent, born about 1540 and died after 1593. 7.) Jehan, born about 1542, who never married. Jehan joined the Huguenots. He was still alive as of July, 1577. 8.) Laurence, born about 1544, who married about 1563, Jehan Le Heurteur. They had two sons and one daughter. Laurence died prior to 1611. 9.) Anne, born about 1546, who married Guillaume Vereul on May 18, 1572, and had four sons and two daughters. 10.) Jacqueline, born about 1548, and married Michel Godes on December 12, 1574. They had two sons and two daughters. 11.) Robert, born about 1550, and who married Marie Le Fort on August 9, 1595 and had two sons and one daughter. He died in 1637. 12.) Laurent, born about 1552, who married Judith Couteux on August 5, 1589 and had one son and three daughters. He died after Dec. 18, 1620.

Jacques, number 5 above, son of Jehan or Jacques Cossart and Jacquette Puchot, married Marguerite Toustain on April 22, 1577. Marguerite was the daughter of Laurent Toustain (1533-1594) and Marguerite Le Conte. Jacques died in 1609 and Marguerite died January 28, 1638 in her 78th year. Jacques and Marguerite had fourteen children as follows:

1.) Marguerite, born in 1578 in Rouen. She married, on January 17, 1602, Jehan Lorin, and had two children, Pierre the Younger and Jacques Roger. Marguerite died May 2, 1652. 2.) Estienne, born in Rouen, christened January 19, 1579. He married Catharine Acar on December 5, 1604. Estienne and Catharine had nine children. Because of their religious beliefs, they fled France for Holland. Their children were Estienne, born in 1641; Abraham, born 1642; Phillippe, born 1643; Estiennne, born 1645; Esther, born 1646; Luc, born 1648; Marie, born 1649; Estienne, born 1651; and Esther, born 1656 (note-- in the book History of the Cossart and Allied Families, it says 1666 but also says Estienne the father died in 1660, so it must be a typo). 3.) Suzanne, christened in Rouen on February 4, 1581. She married Daniel Mayer on February 22, 1604, but had no children. Suzanne died February 24, 1607. 4.) Jehanne, born in 1583 in Rouen and married Michel Le Sueur on September 7, 1608. They had three sons and one daughter. 5.) Jacques, born February 26, 1584 in Rouen, never married and died August 11, 1638. 6.) Pierre, christened January 3, 1585 in Rouen and married Marie Baudouyn in 1615. They had fourteen children, this line is continued below. 7.) Elizabeth, born in 1586 in Rouen, and who married Jehan Herbert in February of 1612. They had three children: Elizabeth, Jean and Marie. Elizabeth died March 10, 1663. 8.) Esther, born in 1590 in Rouen, and married Jehan Le Plastrier on July 7, 1613. Esther married a second time to Estienne Chapperon on August 18, 1619. She died June 25, 1649. 9.) Rachel, born in 1593 in Caen, died in infancy. 10.) Rachel, born in 1594 in Caen, died in infancy. 11.) Marie, baptized in 1597 and married Abraham Du Pont (1572-1640) on February 10, 1627. They had five children. Marie's second husband was Daniel Le Prevost, but there were no children from this union. Marie died December 2, 1648. 12.) Samuel, born in 1601 in Rouen and died April 15, 1601. 13.) Judith, christened January 12, 1603 in Rouen. She married Alexis Le Conte (1590-1650). Judith died July 13, 1636. 14.) Abraham, born about 1604 in Rouen; never married.

Pierre Cossart, number 6 above, son of Jacques and Marguerite Toustain Cossart, married Marie Baudouyn, daughter of Jehan Baudouyn and Marie Mayer. They married on August 30, 1615. Pierre died after 1638 while Marie lived until August 24, 1646. They had fourteen children as follows:

1.) Pierre, christened October 18, 1616, died in infancy. 2.) Pierre, born 1618, married Marie Loquet in 1644 and secondly, Elizabeth De Bauquemare. This line is continued below. 3.) Jeanne, born in 1621 and died November 9, 1629. 4.) Jacques, christened August 18, 1622. He married Judith Congnard on November 4, 1646. They had two sons and one daughter. Jacques died July 21, 1650. 5.) David, born and christened October 1, 1623. He married Marguerite Congnard on November 8, 1654. They had seven sons and four daughters. David died in Dublin, Ireland in December of 1683. 6.) Abraham, born in May of 1625 and died October 20, 1629. 7.) Isaac, born about 1626 and died after 1670 in Dublin, Ireland. 8.) Marie, born about 1628 and married Isaac Daussy on June 15, 1647. They had four sons and five daughters. 9.) Jeanne, born November 2, 1629 and never married. She died after March of 1688, possibly in Holland. 10.) Noel, christened April 20, 1631, who married Ann Petit. They had five sons and four daughters. Noel died in 1717 in London, England. 11.) Abraham, christened January 29, 1633. He married Marie Fallaize in 1656 and they had one son and one daughter. 12.) Esther, born February 19, 1634, who married Jacques De Genteville, Jr. on June 9, 1658. 13.) Judith, born January 25, 1637, and died March 23, 1641. 14.) Marthe, born November 17, 1638 and died December 17, 1638.

Pierre Cossart, number two above, son of Pierre and Marie Baudouyn Cossart, married Marie Loquet, daughter of Jehan Loquet and Marie Le Blanc. Marie was born in 1621 and she died before October 2, 1668. They married on January 24, 1644 in Rouen. Pierre and Marie moved to Rotterdam, Holland about 1681 and then to Amsterdam in 1701. They joined the Reformed Church of Amsterdam on November 13, 1701. After Marie Loquet died, Pierre remarried to Elizabeth Bauquemare, born in 1634, the daughter of Nicolas and Marie Moysant. They married on June 14, 1674, but there were no children from this union. Pierre died after November of 1701. Pierre and Marie Loquet Cossart had ten children as follows:

1.) Pierre, born and christened on October 2, 1644 in Rouen. He was admitted to the Walloon Church of Amsterdam on November 30, 1687. 2.) Jacques, born and christened on March 4, 1646 in Rouen. He was living as of 1669. 3.) Jean, born and christened on September 19, 1647 and died December 9, 1651. 4.) Marie, born November 29, 1648, who married Bernard Torin. Bernard was born in 1639, son of Jehan and Rachel Clinchant. They had one son and three daughters. Marie died October 4, 1668. 5.) David, born November 9, 1649 in Rouen, and died June 20, 1651. 6.) Isaac, born September 30, 1651 in Rouen, and married Suzanne Cornelie de La Fontaine. This line is continued below. 7.) Anne, born July 9, 1653 in Rouen. 8.) Jean, born March 20, 1656 in Rouen. He married Judith Faneuil on April 29, 1693 in Rotterdam, Holland. They had six sons and six daughters. Jean died April 23, 1731. 9.) Anne, born in 1657. Ann married Robert Le Plastrier (1651-1715) on May 16, 1683 in Rouen. They had one daughter. Anne died in childbirth on July 2, 1684. 10.) Abraham, born July 14, 1658 in Rouen and died in infancy.

Isaac Cossart, number six above, son of Pierre and Marie Loquet Cossart, married Suzanne Cornelie de La Fontaineon March 15, 1690 in Amsterdam, North Holland, Netherlands. She was born about 1668 and died in early 1713. Isaac was born September 30, 1651 in Rouen, France, and died Jan. 15, 1715 in Amsterdam. From the "Early Generations of the DuPont and Allied Families", pages 654 and 655: Isaac Cossart "was living" in Rouen "on the 16th of November, 1683, at which date he assigned a mortgage of 3,100 livres to Louis Le Buffier upon the latter's payment of the principal in cash, the validity of the mortgage being guaranteed by Isaac's father, Pierre Cossart. In this assignment Isaac is qualified as 'marchand demeurant rue Potard,' and as his father's domicile was in that street he no doubt was living with him. Isaac evidently left France in 1684, as he joined the Huguenot Church of Leyden, Holland, in June of that year. Later he removed to Amsterdam, which became his permanent abode and where he espoused" Suzanne Cornelie de La Fontaine, "of Huguenot extraction like himself"......"On the 20th March, 1710, Isaac Cossart, his son Pierre Cossart, as well as his daughter Marie Catherine Cossart, were naturalized as subjects of Holland. It is to be noted that no reference was made to his wife, Suzanne Cornelie de La Fontaine, perhaps because she had taken an oath of allegiance to that country previous to her marriage. She was living on the 11th of September, 1712 and must have died early in 1713, as on the 15th of March of that year, her husband, as surviving testator, appeared before Paul Van den Ende, notary public.....and executed a codicil confirming the provisions of the joint will of 1707.......Isaac Cossart survived his wife and died at Amsterdam January 15, 1715."

The eleven children of Suzanne Cornelie de La Fontaine and Isaac Cossart were as follows:

1.) Isaac, born December 16, 1690 in Amsterdam, and died the same day. 2.) Pierre, baptized on the 8th of November, 1693. (See more on Pierre--later Peter, below) 3.) Marie Catharine, christened January 15, 1696 in Amsterdam. Marie married Andrew Faneuil of Boston, Massachusetts, who was born before 1670 and died about 1730. He was temporarily staying in Holland when he met Marie. Marie and Andrew married October 3, 1717 in Amsterdam. Marie died in Boston on July 16, 1724. They had no children. Upon her death, an obituary notice in the Boston Gazette described her as a "gentlewoman of extraordinary perfection of mind and body". Andrew had been a leading merchant in Boston and upon his death his great fortune was left to his nephew, Peter Faneuil. (The Du Pont and Allied Families.) 4.) Marguerite, christened in Amsterdam September 6, 1697. 5.) Suzanne Marguerite, christened February 6, 1699 in Amsterdam, and died in infancy. 6.) Jean, christened September 19, 1700 in Amsterdam and died Feb. 11, 1701 in Amsterdam. 7.) Jean, born about 1702 and died October 8, 1703 in Amsterdam. 8.) Jean, christened November 22, 1705 in Amsterdam, and died there December 7, 1705. 9.) Suzanne Marguerite, christened September 11, 1712 in Amsterdam and died unmarried in Amsterdam on September 17, 1749. 10) A child born about 1707, who died May 16, 1707. 11.) Jean, christened September 20, 1709 and died February 27, 1710.

Pierre, one of three of the above eleven children to survive into adulthood, eventually left for Ireland, where he came to be called Peter, father-in-law of Godfrey Baker.

From the Early Generations of DuPont and Allied Families: "He joined the Reformed Church of Amsterdam July 27, 1711, and nearly five years afterwards, May 11, 1716, upon the eve of his departure for Ireland, received a certificate of membership therein. He established himself permanently in Cork. His nuptials took place in April, 1720, and the marriage licence qualified him as 'of St. Mary, Shandon, Cork, merchant' and the bride being Elizabeth Perdriau, likewise of 'St. Mary Shandon', daughter of David Perdriau esquire."

Peter Cossart and Elizabeth Perdriau were married 1720, on this record her name is spelled Perdrau. Their daughter, Elizabeth Cossart was born July 30, 1725 in Cork and died April 1, 1792 in Cork City, Cork, Ireland.

Godfrey Baker of Cork and Elizabeth Cossart were married in Glanmere, Cork, Ireland on July 14, 1744. From the Dublin Freeman's Journal, September 23-25, 1788 edition: "Died: In Cork, Godfrey Baker, Esq. one of the Aldermen of the ward, and Water-bailiff of that city". His date of death was September 17, 1788. Note: the line continues below with their son Hugh Cossart.

From the book "The First Indian Author in English: Dean Mahomed (1759-1851) in India, Ireland, and England", by Michael H. Fisher, Delhi, Oxford University Press:

"One branch of the Baker clan prospered in Cork city. In the early 1740's, Godfrey Baker, (father of Godfrey Evan Baker) moved as a young man to Cork and soon established himself as a leading merchant, apparently in international trade. As only the seventh son of the family patriarch (William Baker of Lismacue), he had apparently not seen a promising future on the family estates. In 1744, Godfrey married Elizabeth Cossart, daughter of Peter Cossart, a leading burgher of Cork. Godfrey Baker rose quickly in Cork society, voted by the Cork Council into the ranks of 'Freemen' in May, 1754." page 206

"He immediately took a particularly active role in city government: in 1755, the Council selected him to oversee repairs to the City Court House and the Freemen elected him one of the two city Sheriffs. The next year, he became a Burgess of the Cork Corporation. He won elections as Chief Magistrate, then as Mayor. This one-year mayoral term (October 1769-October 1770) brought with it a fine house, a salary of 100 pounds and an allowance for public expenses to match. After his term as Mayor, Godfrey consequently became an Alderman for life. Status as an Alderman also ensured a life pension of 20 pounds annually for Baker's widow. Baker also placed himself among the civic leaders particularly opposed to Irish separatism; for example, when troops were raised in March, 1778 to put down unrest, Godfrey Baker's name headed the list of leaders. He also held magisterial powers which he actively used to maintain social order. The Freemen of Cork annually re-elected Godfrey throughout the 1780's to the important office of Water Bailiff: the manager of the harbour and trade, with a handsome salary of 60 pounds annually plus expenses and a silver oar as his badge of office. Further, he kept about 200 pounds annually as his share of the port duties and deposited the surplus, about 100 pounds, in the Corporation treasury, one of the Corporation's major sources of income, illustrating both the value of this office, and Baker's powerful control over it for nearly a decade, on the day after his death in office (17 September 1788), an immediate electoral and political struggle for possession of this lucrative office broke out; subsequently the Corporation reduced its emoluments." page 207

"During his life, Godfrey Baker made careful efforts to retain his family's prominence in the city and region. As was customary, Godfrey arranged for the Cork Corporation to elect his eldest son, Godfrey Evan Baker, as a Freeman of Cork (July, 1782)." "Godfrey Baker also broadened his family's position in Cork society. Besides shifting from landholding to international trade and city government, he located his sons and daughters in other sectors of the elite. Godfrey admired the military; for instance, he helped sponsor a history of the military conquest of Ireland by the English. He also placed three of his four sons in army careers, while seven of this grandsons became military officers. His other son, Peter, obtained the Clerkship in the Permit Office. The Baker family remained prominent civic leaders until the end of the eighteenth century, leading efforts to succor the poor and defend the established elite." pages 207-208

When Godfrey died, in 1788, "with him much of the family's access to patronage in Cork city government" also lessened. "Godfrey Baker's surviving sons were Peter (died unmarried in 1813), Hugh Cossart (Captain, 27th Foot of the Royal Army, died in 1802), and William Massey Baker (in India until 1796 when he returned on leave.)" page 238
Hugh Cossart Baker (1760-1802)
Hugh was born in 1752 according to information on the LDS Website but other research shows him as being born in 1760. His birth place was Glanmere, Cork, Ireland. In his military service, he attained the rank of Captain in the 27th Regiment of Foot. Hugh married Dorcas Phipps in Ireland in 1787.
Brief History of the Lineage of Dorcas Phipps Baker:
Dorcas Phipps was the daughter of George Phipps, and she was born in 1763. Records show she was buried in 1820. (Note: The book, Landed Gentry of Ireland, shows Dorcas marrying a John Boland; this is incorrect as Dorcas married Hugh Baker.)
Dorcas' father was George Phipps from Cregg, born about 1734. George Phipps was the son of Benjamin Phipps and Jane Croker, who had married in 1733. George Phipps died September 16, 1790 in Cork.
Dorcas' mother was Dorcas Pedder, who was christened November 30, 1736 in Cork City and who died May 6, 1820. Dorcas Pedder was the daughter of Belcher Pedder of Castle Berry. Belcher was born about 1702 and married Dorcas Norcott about 1731 in the Diocese of Cloyne, Ireland. Dorcas Norcott was the daughter of William Norcott and Dorcas Lawton. Belcher Pedder died March 23, 1768 in Cork City, aged 66. He is buried in Buttevant, County Cork, Ireland. Dorcas Norcott Pedder died July 13, 1793 in Cork City. In addition to Dorcas, Belcher Pedder and Dorcas Norcott Pedder had the following children:
1.) Thomasin, christened September 19, 1732 in Cork City, Ireland.
2.) William, christened May 28, 1734 in Cork City, Ireland.
3.) John, christened August 11, 1735 in Cork City and married Elizabeth Carey on May 14, 1763 in Cork City. John died March 19, 1805 in Cork City (Morrison's Island) his wife having preceded him in death in 1798.
4.) Anne, christened August 10, 1739 in Cork City and probably died prior to 1744 as another child bears the same name.
5.) Arthur, christened March 4, 1741 in Cork City.
6.) Anne, christened March 2, 1744 in Cork City, and married William Perry on June 13, 1764. William Perry lived from 1740 to 1791. Anne died in November of 1811 in Clifton, (Bristol), Gloucester, England. William Perry's father Samuel Perry, married Phoebe Norcott, daughter of William Norcott. Phoebe was a sister to the Dorcas Norcott, Anne's mother.
7.) Arthur Norcott, christened April 25, 1745 in Cork City and died November 25, 1795 in Clontarf, County Dublin, Ireland. His wife's name was Elizabeth.
9.) Harding E., christened March 31, 1749 in Cork City. He served in the military in the 61st Regiment of Foot and died in 1775 or 1776 in Portugal.
Dorcas Phipps Baker had a sister, Jane, born in 1765, who never married and also a sister Anne, born in 1767, who also never married. Her brother Benjamin, was born in 1766 and married Anne Parker (third daughter of Michael Parker of Passage West, County Cork, Ireland) on January 10, 1791 in Passage, County Cork, Ireland. Benjamin died circa 1825. One of their daughters was also named Dorcas--Dorcas Pedder Phipps, born Feb. 6, 1803 and married a man named Thomas Parsons Boland in 1822 in Cork City. Interestingly, Anne Parker had a sister Elizabeth Ann, who married Thomas Boland in 1781 and their son may have been the Thomas Parsons Boland who married Dorcas Pedder Phipps, making the marriage between first cousins.
Note: the line continues below with the son of Hugh Cossart Baker and Dorcas Phipps Baker with their son George William Baker. Other children of Hugh and Dorcas were:
1.) Godfrey Phipps, who was born 1786 and was baptized April 12, 1786, married Lydia Marie Dubois de Saran on July 22, 1817. In 1842 Godfrey P. Baker wrote a letter to his nephew, Hugh Cossart Baker where details of the history of the Baker family are given. Lt. Col. Baker mentioned his two daughters, Mary and Sophie in his letter. Both Mary Eliza and Sophia Eliza were baptized on December 20, 1822. Sophia Eliza died prior to 1849, and Mary Eliza, who was adopted, married Charles Cesar Bettini. They were living in Florence, Italy in 1849 at the time Col. Baker wrote his will. Colonel Godfrey Phipps Baker died August 4, 1850.
2.) Hugh Cossart, who was born about 1792 and married Mary Anne Popplewell. They were married December 8, 1836 at the Old Church, Saint Pancras, London. They had two children: Rev. Hugh, who died in 1865 and Catherine Henrietta, christened November 1, 1843, Bletchingly, Surrey, England. She married, in 1865, Augustin William Langdon. Mary Popplewell Baker died 1855 and her husband Hugh Cossart Baker died 1862.
Hugh Cossart Baker (1792-1862) was a major in the Artillery. He was baptized in Galway, Ireland, April 15, 1792. He was a cadet in 1808 and was posted to India, arriving December 7, 1809. He became a lieutenant on April 21, 1817 and a captain May 21, 1824. He retired on July 9, 1835. He participated in the expedition against Mauritius 1810-11 and served in Bengal in August of 1811 in the 3rd Mahralta War. (List of the Officers of the Bengal Army 1758-1834 by Major V.C.P. Hodson, London, 1927.) From the London Times September 24, 1862--Deaths: On the 21st instant at his residence Tuscany Villa, Notting-hill, Major Hugh Cossart Baker, deeply lamented.
3.) Dorcas, who married Lt. Col. Peter DesBrisay Stewart of the Royal Artillery. He was the son of Honorable Charles Stewart (about 1759-1813) and Mary DesBrisay (about 1764-1847). They married on February 9, 1810 in London. Charles Stewart was the son of Peter Stewart, Chief Justice of Prince Edward Island, and Mary DesBrisay was the daughter of Thomas DesBrisay, Lieutenant Governor of Prince Edward Island under Governor Walter Patterson. One of Thomas' sons, Theophilus, rector of St. Paul's Church in Charlottetown, married Margaret Stewart, a sister of Charles. Peter DesBrisay Stewart died on November 1, 1867 and was buried on November 4. Dorcas died on September 22, 1841 in Demerara, West Indies.
NOTE: The information on Dorcas and Peter DesBrisay Stewart represents the research of Don Lowe of Alberta, Canada, who kindly agreed to its use on this web page. His sources on this information include: Memorial Plaque displayed in St. Paul's Anglican Church, Charlottetown, Prince Edward Island, Canada; Tom Stewart, a descendant of Hellfire Jack Stewart; United States Government Social Security Death Index; Prince Edward Island Genealogical Society Cemetery Transcripts; research of Bruce Varcoe; Pollard's Historical Sketches; and the Provincial Archives and Records Office at Prince Edward Island (Beaconsfield Heritage Foundation, Charlottetown, Prince Edward Island).
The children of Lt. Col Peter DesBrisay Stewart and Dorcas Baker were:
a. Peter Stewart
b. Lestock Wilson Stewart Esq., M.D., who married Emily Drury.
c. Mary Magdaline Stewart, who married Col. William Southey of the 48th Madras Infantry on November 18, 1845 in London, England. William was born in 1824 and died in 1871 at the age of 47. Children from this marriage were: Rosa Stewart Southey, born 1947; Charles Southey, 1848 - 1858; Henry Edmund Southey, 1850 - 1935; Maria Louisa Southey, born 1851; Edith Flora Southey, 1853 - 1911; Alice Marston Southey, born 1859; Susan Ellen Southey, 1860 - 1885; Robert Southey, born 1861; Mabel Southey, born 1862; Ethel Augusta Southey, born 1864; and William Melvill Southey, 1866-1939.
d. Lt. Charles Stewart, born May 19, 1813 in Woolwich, England. He was christened on October 24, 1814 and died January 13, 1842 in Gandamak, Afghanistan. He married Margaret MacLeod.
e. Hugh Cossart Baker Stewart, christened September 8, 1815 in Woolwich, Kent, England.
f. Edward Kent Stratheran Stewart, christened May 20, 1819 in Woolwich, Kent, England.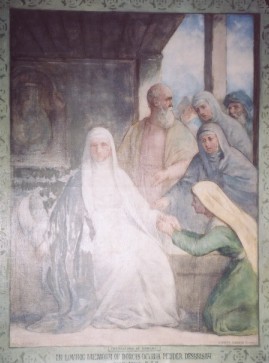 The Raising of Dorcas
In Loving Memory of Dorcas Octavia Pedder DesBrisay 1820-1909 R.I.P.
A painting that hangs in All Soul's Chapel, St. Peter's Anglican Cathedral in Charlottetown
g. Dorcas Octavia Pedder Stewart, born March, 1820 and married Theophilus DesBrisay Esq. (1816-1884) on February 1, 1853 in Charlottetown, Prince Edward Island, Canada. Dorcas' husband Theophilus was the grandson of Rev. Theophilus DesBrisay, the first Protestant Minister (appointed 1774) to serve the Island, which was during his time known as St. John's or Isle St. Jean. Dorcas died on June 21, 1909.
h. Duncan McLeod Stewart, christened January 30, 1827 in Woolwich, Kent, England.
i. Thomas William Stewart, christened July 4, 1827 in Woolwich, Kent, England.
j. Flora MacDonald Stewart, born July 2, 1833 and died April 24, 1898. Flora married Benjamin de St.Croix DesBrisay (1827-1908) on October 12, 1865 in Charlottetown, Prince Edward Island, Canada.

Peter DesBrisay Stewart
The above photo from the Prince Edward Island Archives and Records Office
Death of Lieut. Col. Peter DesBrisay Stewart, from Pollard's Historical Sketches, pages 197-198.
The next death to record is that of the late Adjutant General Lieut. Colonel Peter D. Stewart, which sad event took place on November 1, 1867, at his residence, Spring Park. Colonel Stewart was born in Charlottetown in 1785, where his days ended at the age of 82 years. At the age of 14, he obtained a commission in the Royal Artillery, and as an officer of that regiment first performed garrison duty in the fortification of his native town. England being at war, young Stewart was present with the armament against Copenhagen in 1807. After a long service he retired from the army and returned to the land of his birth. Here on the retirement of Colonel Swabey, as the Adjutant General of Militia in 1859, Colonel Stewart received that appointment, in which he served to the period of his death. In connection with the venerable gentleman's journey through this life, we shall mention a most melancholy accident which happened in the year 1829. During that period, Captain Stewart was on garrison duty with his battery at Halifax, N.S., while Mrs. Stewart and family were passing the winter and spring at Charlottetown. On the 15th May, the family at the usual hour having retired to rest in apparent security from trouble, were awakened from their repose by the loud barking of their dog; in ascertaining the cause of this, the house was discovered to be on fire. The alarm being given the inmates were instantly removed in safety, except a little girl aged nine. Thereupon a noble minded boy, aged twelve, under the impulse of affection rushed into the burning house in order to save his sister and bring her forth but sad to relate, both were consumed in the devouring flames.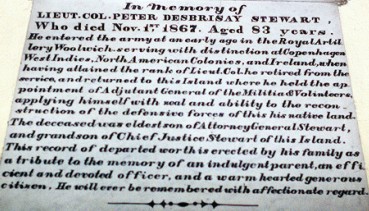 Memorial Plaque which hangs in St. Paul's Anglican Church in Charlottetown, P.E.I.
Death of Dorcas Baker Stewart
From the Royal Gazette Tuesday, February 8, 1842--At Demerara, of Yellow Fever, the beloved wife of Major P.D. Stewart, Royal Artillery, after an illness of ten days, she departed this life on the 22nd of September, 1841, leaving a large family to deplore her loss. She was a kind and affectionate mother and sincere friend to all who knew her. She is deeply lamented by her friends--London Morning Herald, December 7.
4.) The last child of Hugh and Dorcas Baker, continued from #3, Dorcas, was Caroline, who died young.
George William Baker

George William Baker was born in Dublin, Ireland July 12, 1790 and died in Bytown, Canada West, which later became Ottawa, Ontario, Canada on July 22, 1862. He married Ann Cole July 8, 1817 at St Giles, Norwich, Norfolk, England. They are shown on the register as George William Baker, bachelor of Woolwich, Kent, and Ann Cole, spinster of this parish, married by licence. Ann Cole was born April 2, 1786 and was Christened April 24, 1786 at the Old Meeting House-Independent, Norwich, Norfolk, England. Ann Cole died October 24, 1851 at the age of 65, in Bytown, Canada West, which later became Ottawa, Ontario, Canada. They are buried at Beechwood Cemetery, Ottawa.
The Family of Ann Cole of Norwich, Norfolk, England, who married George William Baker
The paternal great grandparents of Ann Cole, were James Cole (1683-1749) and Persis Scurry (1700-1754), who were married August 2, 1720 at St James Pockthorpe, Norwich, Norfolk, England. The nine children of James Cole and Persis Scurry were all born at Norwich, Norfolk, England, and baptized at The Old Meeting House, Norwich. They are as follows: Persis Cole, born June 3, 1721; Elizabeth Cole, born July 28, 1722; John Cole, born December 9, 1724; James Cole, December 12, 1727; Mary Cole, born Sept 6, 1731; Samuel Cole, born April 6, 1734; Lougher Cole, born July 18, 1736; Thomas Cole, born February 24, 1739; Susana Cole, born Oct 11, 1743.
Ann Cole's grandfather, Samuel Cole, was born April 6, 1734, and was christened in Norwich, Norfolk, England on April 28, 1734. Samuel became a schoolmaster at Lynn Regis, and while residing there, he married Margaret Hammond, the daughter of a Doctor Hammond who was a physician there. (This information from the book, The Norfolk and Norwich Savings Bank, 1816-1901) Samuel Cole and Margaret Hammond (1732-1808) were married October 9, 1754 at All Saints Church at South Lynn, Norfolk. The groom's parish was Norwich, Saint Saviour. Notes indicate the groom was a minor. "Married By Licence With The Consent Of Persis Cole, Widow Mother Of The Said Samuel Cole, No Guardian Being Lawfully Appointed."
Samuel Cole and his wife, Margaret Hammond had nine children, all born in Norwich, Norfolk, England, and all baptized in the Old Meeting House, Norwich, The nine children were as follows: Elizabeth Cole, born July 17, 1755 and who died in 1757; John Hammond Cole, born December 3, 1756; Samuel Cole, born August 11,1758; Elizabeth Cole, born May 3, 1760; Margaret Cole, born August 19, 1763, and who died November 27, 1763: Jemima Cole, born January 3, 1767; Peggy or Margaret Cole, born September 28, 1768; Mary Cole, born July 16, 1770 and who died November 19, 1770; and Persis, born July 12, 1772 and who died December 8, 1773.
Ann Cole's father was John Hammond Cole, born December 3, 1756. John Hammond Cole was baptized December 26, 1756 at Norwich, Norfolk, England. He married Ann Shenton (1766-1848), who was born in Buckinghamshire, England. John Hammond Cole and Ann Shenton married at St. Pancras Parish Chapel, London, on June 10. 1783. They had nine children as follows: John Shenton Cole, born May 25, 1784, and who was with the Madras Army and died in Cannenore, Kerala, India on June 28, 1809; Ann Cole, born April 2. 1786; Jemima Eliza Cole, born June 10, 1790 and who died April 11, 1862; Margaret Susannah Cole, born June 20, 1792, and who died October 10, 1792; Sarah Cole, born April 11, 1794, and who died April 26, 1794; Margaret Susannah Cole, born June 5, 1796; Frances Cole, born March 5, 1799, and who died Sept 13, 1858; Edward Cole, born August 4, 1803, and who died May 11, 1878 in Great Plumstead, Norfolk, England; and Mary Ann Cole, born July 31, 1811.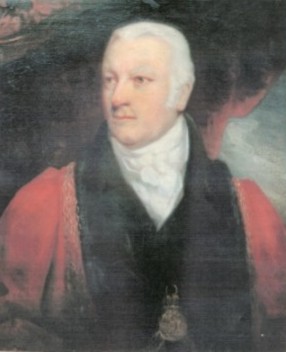 John Hammond Cole, 1756-1828, father of Ann Cole, father-in-law of George William Baker
The original is in a beautiful gold frame. It was reframed and restored in 1945. The inscription below the portrait was typed out as follows: "This painting was brought to Bytown, now Ottawa, Ontario, by Captain George William Baker, R.A., in or about 1830. This portrait is of John Hammond Cole, Esq., the father of Ann Cole, wife of said Captain George William Baker. The following possible reference to this portrait is in the will of George William Baker 13th March, 1861: 'I give and bequeath to my brother-in-law the Reverend Edward Cole the pictures of his father and mother by the late Sir W. M. Beechy, Pres. of the R.A.' This painting was brought to Winnipeg with the G.P. Baker estate effects from Ottawa about 1910 and was given to F. C. Baker, my uncle, from whose estate I purchased it and had it restored and reframed in November, 1945." E.G.P. Baker
John Hammond Cole was described in 1811, in the book, "The Norfolk and Norwich Savings Bank, 1816-1901" as a zealous, public-spirited and philanthropic gentleman. He conceived the idea of providing a savings bank for the benefit of servants an apprentices. He set up a small bank in his home on St. Giles Street, and carried on business during one evening per week, with the assistance of his daughters. In 1816, a properly organized Savings Bank was evolved, when Mr. Cole was successful securing the cooperation of many prominent country and city gentlemen, who were interested in the welfare and prosperity of the city, and in the amelioration of the condition of the working classes of the community.
From the book "The Mayors of Norwich 1403-1835" by B. Cozens-Hardy and Ernest Kent, John Hammond Cole is shown as being sheriff in 1799, mayor in 1811 and alderman for the Mancroft Ward. John Hammond Cole was the son of Samuel Cole of Fisher's Lane, Norwich and began his professional career as a clerk in the Kerrison's bank. He was Treasurer to the Boys and Girls Hospital and the Norwich Dispensary and treasurer and secretary of the Norfolk and Norwich Savings Bank. This bank offered him the choice between having a portrait hung in St. Andrew's Hall and a piece of plate. He chose the plate, a silver tureen which was engraved with his crest and an inscription, "This piece of plate was presented by the Trustees and directors of the Norfolk and Norwich Savings Bank to John Hammond Cole, Esquire, in testimony of the valuable services which for several years he rendered to that institution." He was the Distributor of Stamps from 1793 until his death, the Stamp Office being at his house, 36 St. Giles Street. He chaired the meeting when the Norfolk and Norwich Auxiliary Bible Society was formed in 1811. He died November 29, 1828 at the age of 72. His wife was Ann Shenton of Buckinghamshire, who was born 1766 and died Feb 11, 1848. Both are buried in the south aisle of St. Giles Church; a mural monument marking their resting place.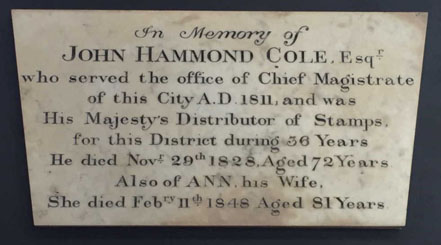 John Hammond Cole and his wife, Ann Shenton Cole
John Hammond Cole, father of Ann Cole Baker, died November 29 1828. From the Norfolk Annals, 1828-29 "Died at his house in St. Giles Street, Norwich, aged 72, Mr. John Hammond Cole, an Alderman of the Great Ward of Mancroft. He was sheriff in 1797; Mayor in 1811; Receiver of Stamp Dates; Treasurer of the Boys' and Girls' Hospital, and of the Norwich Dispensary, and Treasurer and Secretary of the Norfolk and Norwich Savings Bank". Ann Cole died February 18, 1848 aged 81: From the Gentleman's Magazine, "Norfolk, Feb. 11, At Norwich, aged 81, Ann, relict of John Hammond Cole, Esq." In her will, Ann took care to divide up the family heirlooms among her children. To her son Reverend Edward Cole, she gave the silver tureen which had been presented to "my late husband in consideration of his services in the savings bank". To her daughter Ann, wife of George Baker, she left "the portrait of my late son John Shenton Cole and the old china jug called in my family 'Ben'." To her daughter Frances Cole she left a "portrait of herself" and to her daughter Jemima Eliza Cole and her daughter Frances Cole she gave "all my wearing apparel and body linen to be divided between themselves". Additionally, she left to Edward Cole "our office press, a wardrobe, a library table, a small wainscot chest of drawers, a wainscot washing table with closet, a microscope in a mahogany box, a slipper bath, silver stand for a tureen, a telescope and a small mahogany chest of drawers". Since she had left so much to Edward, to divide her estate equally among her children, she took care that all the things she was bequeathing to Edward should be "valued" and after the rest of her estate had been sold, the money that was left after funeral expenses and debts had been paid, was to be divided among these children, deducting the value of the items given to Edward.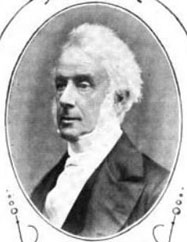 Reverend Edward Cole (1803-1878) brother of Ann Cole
When John Hammond Cole died in 1828, his son, Reverend Edward Cole, Incumbent of the Parish of Great Plumstead, Norfolk, succeeded his father at the Savings Bank, but as honorary secretary, and held the office for close to fifty years. Edward was the brother of Ann Cole.
Ann Cole married George William Baker 1817, and came to Canada to settle in Bytown, Canada West. In addition to his wife, George William Baker brought two of his wife's sisters, Jemima Eliza Cole (1790-1862) and Frances Cole (1799-1858). Both Jemima and Frances remained unmarried and are buried in the Baker familly plot at Beechwood Cemetery, Ottawa.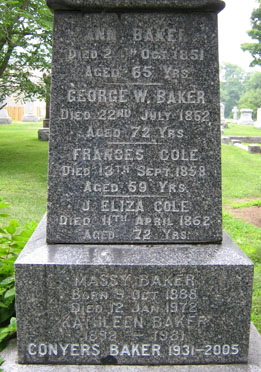 Baker Family Monument, Beechwood Cemetery, Ottawa, Ontario, Canada
George William Baker, son of Hugh Cossart Baker and Dorcas Phipps Baker
George Baker served in the 3rd Battery, Royal Regiment of Artillery. When he joined up, he was 15 years and 353 days old, almost 16. This regiment dated to May 26, 1716, when two companies of field artillery were formed at Woolwich during the reign of George I. Previous to this time, there was no permanent body of artillery in the British Army. When artillery was needed, it had to be authorized by Royal Warrant, and then was disbanded when no longer needed. This proved unsatisfactory during the Jacobite rebellion and thus the Royal Regiment of Artillery came into existence. George Baker is shown in their records as a cadet in 1804, a second lieutenant in 1806 and a first lieutenant in 1808. From 1809 to 1810 his service took him to Walcheren; from 1810 to 1812, Gibraltar; from 1812 to 1814, Malta; and from 1826 to 1829, Trincomalee, Ceylon. He retired from the service on June 23, 1832 after nearly 25 years of service to his country..
George Baker succeeded Matthew Connel as postmaster of Bytown (Ottawa) in 1834 when the current postmaster Matthew Connel died of cholera. The post office was moved from Connel's house on Lot G on Rideau Street in Lower Town, to Kent Street in Upper Town. George's eldest son Hugh Cossart Baker had charge of the office and George's second son Godfrey Phipps Baker as a young teenager helped out and eventually took over when Hugh moved to Toronto in 1846. Godfrey (see his section below) succeeded his father in 1857, when George resigned. (from Michael Newton's book Lower Town Ottawa.)
In these early days in the Canadian wilderness, George Baker worked hard to help out fellow settlers and may have served from time to time as an arbiter of disputes. From a letter written from Bytown April 6, 1835 to the Surveyor General: "Sir, I venture to address you at the particular request of pensioner George Lattimer who having received a ticket dated 15th April, 1833 for lot number 15 on the 8th Concession of Osgoode whereupon he went upon the lot, has built a log house, barn, etc., and cleared twelve acres". (It is worth mentioning at this point that the business of having cleared a goodly number of acres and built buildings was very important as one of the provisions in the land grants was that the settlers perform certain duties, among them clearing the land and erecting structures. On some of the censuses and assessments of early Canada some of the data collected included how many acres had been cleared out of the total granted and what type of buildings were on the land, what they were made of, and how many levels they consisted of.) "Finding the receipt of his location ticket a man named Hugh Mathews went upon the lot as a squatter and commenced clearing, but when the ticket arrived Lattimer showed it to Matthews who departed receiving from Lattimer six dollars for the work he had done, after this, however, and Matthews full well knowing that the whole lot belonged to Lattimer, the former procured (it is believed through M. Maclean) a location ticket for the east half of said lot and in spite of Lattimer has taken possession and built a shanty. It would appear that some deception must have been practiced to obtain the second location to part of a lot the whole of which had already been granted, but as Lattimer has performed all his settlement duties and has constantly resided on the lot, I am sure you will see the propriety of cancelling the location made to Hugh Matthews. I am, Sir, Your Very Obedient Servant."
In 1835 George Baker was authorized to raise two companies of volunteers in Bytown and he was to have the rank of Lieutenant Colonel. However, some of the local people, who were politically opposed to George Baker's Tory sentiments, tried to undermine his authority by contesting it in the court system and by writing letters to the government. His commission was revoked and the companies disbanded. However, in 1838 and 1839 he again held a militia rank.
In the 1840's George Baker was also a magistrate and once again commander of the Bytown militia and acted as the returning officer for the March, 1841 election. As a Tory, he was committed to the Governor's candidate, William Stewart Derbishire and "his children publicly sported Derbishire's banner and badges on election day". When Derbishire was declared the winner "George Baker stood on the platform and sang 'Rule Britannia' at the top of his lungs--then jumped into his sleigh and led the victory parade". (from Shirley E. Woods book Ottawa: The Capital of Canada.) His militia duties became complicated during the early years of Bytown when brawling, and episodes of violence increased as the Irish battled with the French Canadians for control of the jobs associated with the lumber trade. As the town magistrate, George Baker wrote the authorities for help and thus described the situation of the early Bytown into which he and his family had settled: "I cannot Sir describe to you the situation of the town. If I could, you would deem it incredible and it is becoming daily, worse...No person whatever can move by day without insult, or at night without risk of life--thus whole families of unoffending people are obliged to abandon the town and nothing except a military patrol will succeed in arresting the evil and dissipating the general alarm...I have not moved without arms since the 14th May". (From the book Ottawa: An Illustrated History)
George Baker was very active in a number of different venues: he was reeve of Nepean Township in 1842, 1843 and 1844; founded the Bytown Cricket Club in 1849. He was one of the first shareholders in the Bytown and Prescott Railroad (from Michael Newton's book Lower Town Ottawa and Shirley E. Woods book Ottawa: The Capital of Canada.). He was a member of the Dalhousie District Council from 1842 to 1850; president or director of the Mutual Fire Insurance Company of the Bathurst District; member of the Bathurst District Agricultural Society from 1832 to 1842 and served as the treasurer in 1837; member of the Dalhousie District Agricultural Society (renamed from the Bathurst District Agricultural Society) from 1842 to 1850; member of the County of Carleton Agricultural Society (renamed from the Dalhousie District Agricultural Society) from 1850 to 1854--perhaps longer; and a member of the Ottawa Horticultural Society, founded in 1854, until 1859, when the society ceased operations.
Apparently the idea that Bytown would someday be the capital was a very much discussed topic of conversation during the lifetime of George W. Baker. In a letter to a friend written in July of 1835, George Baker said: "Then will arise the all important question as to the site of the future capital. Quebec is too far distant from the west--Montreal indefensible and the St. Lawrence is too near the enemy. Thus I have made up my mind, that no part of Canada is so well fitted for the purpose as Bytown, with a more classical name. Bytown is equidistant between the two extremes and a reasonable distance from the frontier--the best military position in the province, and there is nearly enough stone about it for building purpose. With respect also to salubrity--it is not exceeded by any place in the world--then what villas there will be on our hills and what splendid fleets of yachts in our harbours."
A poem about George Baker appears in the book Recollections of Bytown and Its Old Inhabitants, by William Pittman Lett, published in Ottawa in 1874 and reflects the esteem in which he was held by his fellow townspeople:
George William Baker, better known as "Captain Baker" in the town.
Who oft the mailbag's lock untied
Long after Matthew Connell died--
Long after Helen Denny's hand sent postal letters o'er the land;
An Englishman of good degree
A Justice of the Peace was he, and Captain of Artillery--
He was in his life's early day,
He shewed his claims to education in County Council legislation,
Where he in intellectual pride sat long by Hamnett Pinhey's side,
Our local parliaments since then have seldom witnessed two such men.
When George Baker died in 1862, his last will and testament revealed a generous legacy to his children and close relatives. He had two lots--24 and 25 in the first Concession of the Township of Nepean, Ottawa front. He had a great deal of farming implements, plate, linen, books, furniture and family portraits. Additionally, he had land in Ireland which had been given to him by his grandmother Dorcas Phipps:
1.) Land in the townland of Upper Kilcummer, County Cork, Barony of Fermoy, parish of Kilcummer.
2.) Land in the townland of West Knocknanagh, County Cork, Barony of Duhallow, parish of Kilmeen.
3.) Land in the townland of Lahern, County Cork, Barony of Kinalea, parish of Leighmoncy.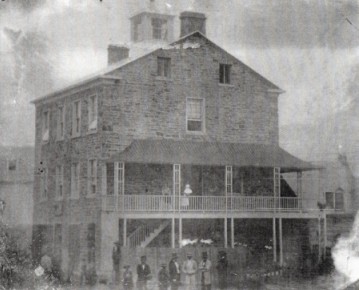 Woodroffe, the home of George William Baker
This photo is from the William James Topley collection at the National Archives of Canada
Baker, G. W. (Group & Old Stone House)
Death Notice of Ann Cole Baker: Gentleman's Magazine, 1851: October 24, at Bytown, Ottawa River, Canada West, the wife of George W. Baker, late Captain R. Artillery, eldest daughter of the late John Hammond Cole, Esq. of Norwich.
Obituary of George William Baker: Ottawa Union, July 24, 1862: Ottawa has lost another of its oldest and most respectable citizens in the death of George W. Baker, Esq., lately of Woodroffe, in the township of Nepean. He died full of years, and honoured by the community in which he has moved for over a quarter of a century. The deceased was in early life a captain in the Royal Artillery. He was a man of varied attainments, ripe scholarship, and vigorous intellect. As early as 1835-36, Captain Baker was a leading magistrate of the town and took an active part in the municipal and political movements of the day. He was the first agent here of the Bank of Upper Canada, and held the position of Postmaster for many years, being succeeded in the management of the Post Office by his son, Mr. G. P. Baker, who has latterly and now conducts the business. The deceased retired some years since to his farm (Woodroffe) in the township of Nepean, and of late years his health had given way to a considerable extent. A short time since his residence was destroyed by fire and his valuable collection of papers and rare antiquities, as well as a large amount of valuable property, were destroyed. Since that period he has rapidly declined and his death took place rather suddenly on the 22nd instant.
George William Baker and Ann Cole were originally buried in the Sandy Hill Cemetery in Ottawa, but later transferred to the Beechwood Cemetery on September 12, 1883. A Baker family monument in the Sandy Hill Cemetery was unfortunately not transferred to the new family plot in Beechwood. In 1911, the Corporation of the City of Ottawa decided to plow over the former cemetery to turn it into a park. Headstones that were not transferred were transcribed into the Council Minutes for posterity. Buried on plot 44 of Beechwood Cemetery are the following: Godfrey Phipps Baker, died 1882, age 60; J. Eliza Cole, died April 11, 1862, aged 72 years; Frances Cole (from Sandy Hill, 1883), died Sept. 13, 1858 aged 59 years; George William Baker (from Sandy Hill, 1883); Annie Baker (from Sandy Hill, 1883); Eliza B. Baker (from Sandy Hill, 1883); Elizabeth C. Baker (from Sandy Hill, 1883); Marion J. Baker, died 1903 aged 70; Catherine E. Baker, died 1903, age 49, grave #2; Frances Amelia Baker, died 1930, age 85, grave #6; Massy Baker, born Oct. 9, 1889 and died January 12, 1972, age 84, grave #3; Kathleen Baker, died March 30, 1981, age 88, grave #4; Elizabeth Julia Baker, died Sept. 10, 1858, aged 26 years; Elizabeth Brickenden Baker died Sept. 15, 1853 aged 6 months; Irene Evans, died 1981, grave #5; and Denis Evans, died Aug. 20, 1986, age 60, grave #7.
The children of George W. Baker and Ann Cole and their descendants are featured on individual pages as follows:
Hugh Cossart Baker
Ann Cole Baker
Frances Marianne Grantham Baker
Godfrey Phipps Baker and his first wife, Elizabeth Julia Clements
Godfrey Phipps Baker and his second wife, Marion Johanna Hamilton
George William Baker
Edward Hammond Massey Baker
Sydney Bathurst Baker
If you wish to contact me about any of the above information, please e-mail me, Linda S. Jordan at . If you wish to use any of the information found on my website, kindly e-mail me and ask for my permission. Content copyright Linda S. Jordan 2003 - 2022 unless otherwise noted.