The Fifth Child of George W. Baker & Ann Cole:
George William Baker
George William was born August 30, 1824, baptized in Swaffham, Norfolk, England. He married Catherine Ann Cory on October 1, 1851 at Wellington, Prince Edward County: "Baker, George William, Jr., of Hamilton, third son of Captain George W. Baker of Bytown, late Royal Artillery, to Catherine Ann, eldest daughter of Benjamin Sayre Cory, M.D. of Wellington, by Rev. R.G. Cox, Oct. 1st at Wellington, Prince Edward County". (Canada Christian Advocate Methodist Marriage Notices).

Mrs. T. C. Mewburn with mother and sisters (Archives of Ontario)
This portrait is also entitled, "Portrait of a Mother and five daughters." Mrs. Dr. Ben Cory (Frances) (1807-1891), Mrs. J. R. Thomson (Catherine Ann or Kate) (1830-1896), Mrs. Francis E. Kilvert (Nancy Young) (1838-), Mrs. T. C. Mewburn (Rachel Amanda) (1834-1917), Mrs. Albert Tuttle Chapman (Frances Eliza or Fanny) (1840-), Mrs. J. Stewart (Sarah Isabella) (1852-)
Catherine was a sister to Amanda Cory, who married Sydney Bathurst Baker.

Catherine was born May 2, 1830 in Wellington, Ontario, daughter Dr. Benjamin Sayre Cory (1805-1885) and Fanny Young, daughter of the Hon. James Young of the Carrying Place, Prince Edward County. Amanda and Kate had eleven siblings. One sister, Nancy Young Cory, married Francis Edwin Kilvert, (1838 - 1910) on June 6, 1863. F. E. Kilvert had a distinguished career as a lawyer and was elected Mayor of Hamilton in 1877 and 1878.

Dr. Benjamin Sayre Cory had a sister, Rebecca Cory, (1798-1884) who married Dr. Pitkin Gross, a highly skilled surgeon known for his ingenuity in performing operations when the proper instruments were unavailable. Dr. Gross was appointed surgeon to the 2nd Regiment Prince Edward Militia, 1822 and he died at the age of 82 in September, 1873. It is also interesting to note that one of Dr. Benjamin Cory's ancestors was Sir Francis Drake. Dr. Benjamin Cory died in December, 1885 and his wife Fanny died April 17, 1891.

George and Catherine had one child, a daughter Fanny Cole Baker, who was born November 30, 1852, and baptized at the Church of the Ascension, Hamilton, Ontario, on Feb. 4, 1853. Sadly, the only child of George William Baker and his wife Catherine, died as an infant. Her death was reported as follows: "At Hamilton, March 26th, Fanny Cole, infant daughter of George W. Baker, Jr., Esq., aged three months, 26 days, on March 26, 1853." (Vol. 1, Birth/Death/Marriage Notices from the Bytown Packet and Ottawa Citizen Oct. 1846-Dec. 1963)

George William Baker of Hamilton, Ontario, died soon after on May 25, 1853. His death was the result of a kick from a horse. George William Baker was described by the Cory family as "an athletic man and a great favourite". The inscription on his grave in Sandy Hill Cemetery, Ottawa, said "Sacred to the Memory of George W. Baker, who departed this life at By Town May 25, 1853, age 28 years, 9 months. Mark the perfect man, and behold the upright, for the end of that man is peace."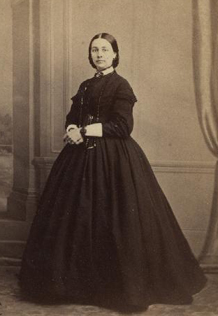 Catherine Ann Cory Baker; later Kate Thomson
Catherine (Kate) later remarried James Richard Thomson, barrister, from Hamilton on October 15, 1857, in Waukegan, Illinois. By her second marriage, she had three children: Catherine Cory Thomson, who died from scarlet fever in 1864; Frederick Cory Thomson, who died in 1860; and George Cory Thomson, born in Hamilton, Ontario, December 12, 1862. George Cory Thomson was the only child who survived childhood.
Obituary of James Thomson
Spectator Clippings, 1869 : Died At his residence here, on Hess Street, in the city of Hamilton, on Saturday, the 22nd inst., James Richard Thomson, Esquire, Barrister, of this city, aged 39 years. Funeral will take place from his late residence on Tuesday afternoon next at 4:00 p.m. Friends and acquaintances are respectfully requested to attend without further notice----It is with deep regret we have to record the death this afternoon, after a long illness, of James R. Thomson, Esq., for a number of years a leading Barrister of this city. The deceased was born in Fort Erie in the year 1830, where a number of his relations reside. He was educated in Upper Canada College, and after serving in term as a law student in the office of Messrs. Morrison & Connor, in Toronto, came to this city and entered into partnership with the late George S. Tiffany and was made Solicitor of the Gore Bank. His early death will be mourned by a large circle of friends and relatives, to whom he was endeared by his kind and affectionate disposition. His brethren at the Bar will long regret his absence from their midst, and his familiar appearance among our citizens will be deeply and sadly missed.
At the time of the 1881 Census of Canada, Kate Thomson is age 50, English origin, living in Hamilton, Ontario with her son George, 18, a law student, and one servant. Kate Thomson died 1896.
George Cory Thomson
George Cory Thomson, the only child of Catherine Ann Cory Baker Thomson and James Thomson who survived, went on to marry at age 26, Mona Louise Bunbury, age 21, on October 23, 1889 at Hamilton Ontario. Mona was born in Chicago, the only daughter of Henry T. Bunbury, Esq. and his wife Jane. George and Mona Thomson had three children: Catherine Daintry Thomson, born August 12, 1890; Henry Richard Thomson, born May 30, 1894; and Elsie Mona Madeleine Thomson, born February 9, 1896.
At the time of the 1901 census, George Cory Thomson and his family was living in Hamilton, Ontario. George was a barrister, aged 38; his wife Mona was aged 32, born in U.S.A. and in Canada since 1869; their daughter Kate D. was aged 10; son Henry R., aged 6; daughter Elsie M. was aged 5. A domestic named Sarah Plank also lived with the family.
At the time of the 1911 census, George Cory Thomson and his family lived at 44 Herkimer St., Hamilton, Ontario. George Thomson was a barrister, and gave his age as 45; his wife Mona gave her age as 40; daughter Catherine was aged 20; son Harry was aged 17; daughter Elsie was aged 14. Two domestics also lived with the family.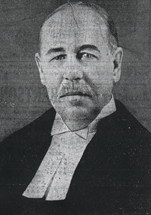 Judge George Cory Thomson K. C.
The caption under this portrait, which was published about 1940, reads, "PASSING WIDELY MOURNED - Judge George C. Thomson K. C., former senior member ofthe bench for Wentworth County, whose death occurred on Sunday. He was 79 years of age."

Click here to return to the Baker main page.