The fourth child of George W. Baker & Ann Cole
Godfrey Phipps Baker
Who married secondly Marion Johanna Hamilton

Godfrey was born August 25, 1822 in Shooter's Hill, Woolwich, England; baptized in Plumstead, Kent, England and died March 16, 1882 in Ottawa. He married first Elizabeth Julia Clements on May 25, 1852 in Ottawa. Elizabeth was born in 1832.
Four children from Godfrey Phipps Baker's first marriage were born. Elizabeth Brickenden Baker died September 15, 1853 at the age of 6 months. George William Baker was born August 4, 1854 and died in 1917. Godfrey Phipps Baker was born 1855 and died 1857. Frederick Clements Baker, was born August 10, 1858, and died in 1932. Elizabeth Julia Clements Baker died at the age of 26 years on September 10. 1858. She was buried at Sandy Hill Cemetery, Ottawa.
Godfrey's second wife, whom he married May 30, 1861 was Marion Johanna Hamilton, with whom he had eight children. Marion was the eldest daughter of Dr. John Macaulay Hamilton, R. N., first cousin to Lord Macaulay. The wedding notice appeared in the Hamilton Evening Times on Saturday, June 1st, 1861, as follows: "On the 30th ult., by the Reverend John Hebden A. M. Rector of the Church of the Ascension in this city, G. P. Baker, Esq. of Ottawa, C.W. son of Captain G. W. Baker late R. A. to Marion, eldest daughter of John Macaulay Hamilton, Esq., surgeon, late of Royal Navy." Marion died March 5, 1903. Godfrey Phipps Baker was the postmaster of the city of Ottawa. His residence was Woodroffe, on Richmond Road.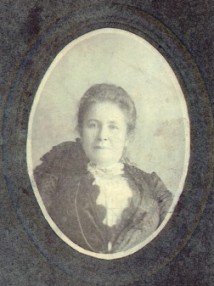 Marion Johanna Hamilton Baker 1833 - 1903
Photo courtesy of Bruce Varcoe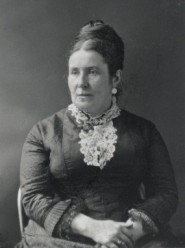 Marion Johanna Hamilton Baker 1833 - 1903
William James Topley collection / National Archives of Canada / July, 1881 / Item 39269, entitled "Baker Mrs. (Post Office)" (ink stains and tear edited from original photograph)
Godfrey is buried in the Beechwood Cemetery, Section 50, Ottawa: "In memory of Godfrey Phipps Baker who for 25 years was postmaster of the City of Ottawa, died March 16, 1882 aged 60 years. This monument is erected by friends." His second wife Johanna is also buried there: "Marion Johanna Hamilton, beloved wife of Godfrey Phipps Baker, born March 31, 1833, died March 5, 1903."

The Children of Godfrey Phipps Baker and Marion Johanna Hamilton
1.) Godfrey Phipps, born September 25, 1863, who never married and became a veterinary surgeon in Togo, Saskatchewan. An obituary was published in a Public Health Journal in July 1952. "Dr. Godfrey P. Baker, Togo, Saskatchewan. Dr. Baker, one of the earliest settlers in the Togo district passed away on November 15, 1951 at the age of 88 years. He was the son of Godfrey P. Baker, one time post master of Bytown and Ottawa. He graduated from McGill Veterinary College in 1896, and came west the same year, where he practised at Binscarth and Russell, Manitoba. In 1900, he came to Togo and practised there since that time. He was keenly interested in all phases of agriculture and was considered a good stock judge. He was a member of the Saskatchewan Veterinary Association, and made a life member in 1945. Funeral service which was attended by many was held in the Anglican Church Tuesday afternoon, with Rev. P. S. C. Bates of Kamsack officiating. Interment was made in the Togo Cemetery. During the last years, Dr. Baker made his home with Mr. and Mrs. Frank Scoville of Togo, Sask."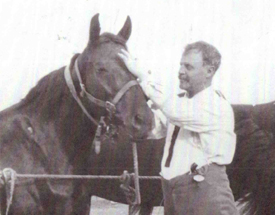 Godfrey Phipps Baker 1863 - 1951
2.) Hugh Cossart, born June 4, 1866, lived in Ottawa and married Dorothea G. Ellis, daughter of Rev. John Ellis of Leicestershire, England in 1910. They had three children, Hugh Cossart Baker, Dorothea Marion Baker and Jack Bathurst Baker. Hugh Cossart Baker was born Friday October 6, 1911.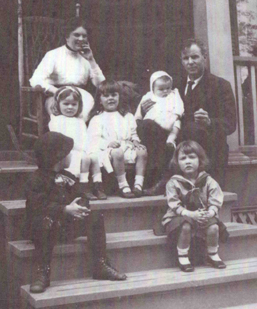 Hugh Cossart Baker and Dorothea G. Ellis and their family.
The children are Hugh Cossart, Dorothea Marion, and Jack Bathurst Baker. Also in the photo is an unidentified girl, as well as a cousin, Brenda Gow, daughter of Frances Margaret Baker who married Alexander Gow.
An article was published in the Evening Capital, Nov 12, 1963. "Lt. Col Hugh Cossart Baker, USA (ret.) and Mrs. Baker, Annapolis entertained at a cocktail buffet at their home on Saturday in honor of Miss Yolanda Ippolito, daughter of Lt. Col and Mrs. Luciano Ippolito of Linstead-on-Severn, and her fiance, Lt. John J. Christensen, USAF. The party was followed by dancing and a midnight breakfast at the Annapolis Country Club." Hugh Cossart Baker died Tuesday February 25, 1997 at the age of 85. He was a resident of Raleigh, North Carolina. On March 2, 1997, the Greensboro News and Record printed an obituary as follows: "Mr. Hugh Cossart Baker, 85, of 1909 Walker Avenue died Tuesday February 25, 1997 at Greensboro Health and Rehabilitation Center. A memorial service will be held at 11:00 a.m. Monday March 3, 1997, at St. Andrew's Episcopal Church. Mr. Baker was a native of Tonawanda N.Y. and a retired Lt. Colonel in the Intelligence Division of the United States Army. He was a member of St. Andrew's Episcopal Church. He was a mason with the San Diego Lodge No. 35, F & AM. Mr. Baker was preceded in death by his wife, Corinne Cook Baker in 1983. He is survived by sister Dorothea Savory of Duncan, British Columbia; brother John 'Jack' B. Baker, of Victoria, British Columbia; seven nieces and nephews." Dorothea Baker married Kenneth Savory and they had a daughter, Eve Savory.
3.) Massey Wheeler, born Dec. 19, 1867 in Ottawa, and who lived in Seattle, Washington and married May Howard of Carrollton, Illinois. Massey Wheeler Baker died 1939. May Howard was born 1875 and died 1961. They had a daughter named Marion B. MacKinnon. Marion was born April 15, 1909 and married William Mackinnon. She died in Winter Park Florida on Tuesday, October 16, 2001 at the age of 92 years. Her obituary was published in the Orlando Sentinel on October 18, 2001. "Marion B. Mackinnon, 92, South Lakemont Avenue, Winter Park, died Tuesday October 16. Mrs. Mackinnon was a homemaker. Born in Seattle, she moved to central Florida in 1972. She was a member of Winter Park Women's Club and University Club, Winter Park. Survivors: sons, Alexander, Winter Park, Howard, Savannah, GA; six grandchildren; three great-grandchildren. Carey Hand Cox-Parker Funeral Home, Winter Park."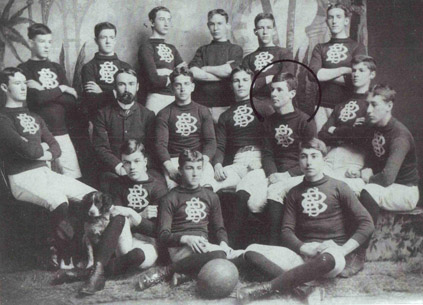 Massey Wheeler Baker at Bishop's College, Lennoxville, Quebec.
Marion Mackinnon wrote a letter in March of 1998 where she detailed her recollections of her father's family. Marion wrote that she had a picture of the seven Baker boys, including her father who was about 12 years old in the picture. Her father lost his father at a young age, and went to school at Bishop's College in Lennoxville, Quebec. She remembered her father taking her to her Uncle Fred's farm in Vernon B.C. when she was a young child. Uncle Fred lived with Uncle Jack Baker.
4.) John Macaulay Hamilton, born Oct. 29, 1870, lived in the Okanagan, B.C. area, and never married. He was known as Jack Baker and was a banker and a rancher, having lived with his brother Sydney Bathurst Baker, and his half brother, Frederick Clements Baker. His death certificate gives his date of birth as October 19, 1870 at Ottawa, Ontario. He had lived in British Columbia for 35 years, and his last address was 111 Lawson Avenue, Kelowna, B.C. Jack Baker died October 13, 1943 at the Provincial Mental Hospital at Essondale B.C. where he died of exhaustion and senile dementia. He was buried in Kelowna, B.C. at the Winfield Cemetery.
A Winnipeg newspaper reported the death of Jack Baker with an article as follows: " J. H. M. BAKER DIES IN B. C. Jack H. M Baker, pioneer bank manager here before the end of the 19th century when he joined the rush to the Klondyke in 1898, died Oct. 13 in British Columbia. Mr. Baker had been fruit farming in recent years with a brother, in the Okanagan Valley, retiring recently to live in Kelowna. He was well-known in athletic circles in Winnipeg in the early days. He was a son of the late Godfrey Phipps Baker, of Woodroffe, Ottawa, where he was born. He was educated at Bishop's College, Lennoxville, Quebec, and came west to take over managership of the Bank National, then situated at the corner of Portage Ave. and Main St. In the east, he had been connected with the old Molson's bank in Montreal. He went to the Klondyke in 1898 with several other Winnipeg residents, including Charles Norris, now retired, who was formerly with the Bank of Commerce. Mr. Baker was a popular member of the old Winnipeg Rugby club in pioneer days. He is survived by three nephews, E. G. Phipps Baker K.C., Henry Baker, and R. D. Baker, Winnipeg, two sisters, Mrs. (Dr.) Victor G. Williams, Winnipeg, and Mrs. W. A. Wilson, Binscarth, Man., and two brothers, Sydney, Kelowna, and Godfrey Phipps Baker, Togo, Sask.
The Kelowna Courier published an interesting article about John M. Baker after his death. " JOHN M BAKER WAS WINFIELD PIONEER. Ranched at Woods Lake With Brother For Many Years - Was In Yukon Gold Rush There passed away in Kelowna on Wednesday, October 13, John Macauley Hamilton Baker, a former well-known Winfield resident. He was born in Ottawa, October 19, 1870, the sixth son of Godfrey Phipps Baker and Marion Johanna Baker, and received his education at Bishop's College School, Lennoxville, Quebec. Prior to leaving for th Klondike, an experience of which he often spoke, Mr. Baker was manager of the Banque Nationale in Winnipeg. He came to the Okanagaan in 1912 and ranched with his brother, the late F. C. Baker, at Woods Lake until 1940, when he moved to Kelowna. By the death of Mr. Baker, Winfield loses one of the ever-diminishing band of pioneers who were in the district when it was known as Woods Lake. Winfield also loses a link with the historic Bytown, as Mr. Baker was a grandson of George William Baker, one time postmaster of Bytown, now Ottawa. With six companions, including D. Norquay, son of Lieut. - Governor Norquay, of Manitoba, J. M. Baker sought fortune in the Klondike in 1898.In his younger days he was noteworthy for his skill at rugby football, also in a very different pastime, the game of chess. A member of a clever family, he was ingenious and of great help in the days when repair shops were few and distant, making many a repair or building some much needed farm implement for a neighbour. Before coming to Winfield, he guided a party from Prince Rupert to Hazelton with saddle and pack horses, as this was before the railway came to those parts. Mr. Baker took an active part in local affairs, being auditor for the School District for many years as well as for the Farmers' Institute. The deceased is survived by two sisters, Mrs. V. G. Williams, of Winnipeg, and Mrs. W. A. Wilson, of Binscarth, Manitoba, and two brothers, Godfrey P. Baker, V. S. of Togo, Sask., and Sydney B. Baker of Winfield. Burial took place in the Winfield Cemetery." Jack Baker is buried at the the new Winfield Cemetery, or St. Margaret's Anglican Cemetery, Winfield, B.C. A cemetery map reveals that Jack Baker is buried next to his brother Sydney Baker in section A of the cemetery, in unmarked graves.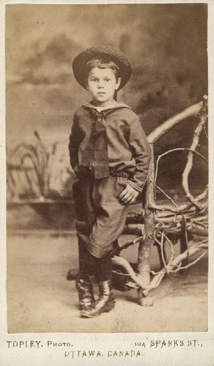 John Macaulay Hamilton Baker
Written on reverse of photo; "John Macaulay Hamilton Baker, born 29 Oct 1870, the year of the great fire which devastated the country."
5.) Sydney Bathurst, born November 9, 1874, and came to the Okanagan, B. C. area about 1912, and never married. He lived with John Macaulay Hamilton Baker and also his half brother Frederick Clements Baker at Winfield, R R 1 Kelowna, B.C. Sydney died December 12, 1943 at Kelowna General Hospital, Kelowna B.C., where he had stayed for 3 days prior to his death. His death certificate reveals that he died of Cirrhosis of the liver, (malignant). The doctor concluded that Sydney was "always a bachelor and therefore likely often improper diet." Sydney was a mechanic, chiefly in woodworking and building, and had worked until 1942, a year before his death at the age of 68. His closest relative at the time of his death was a niece, Mrs. Macdonald, wife of the manager of the Bank of Montreal, Vancouver Main Office. Sydney Bathurst Baker was buried at Winfield Anglican Cemetery, Winfield, B.C. on December 14, 1943. This cemetery is also known as the new Winfield Cemetery, or St. Margaret's Anglican Cemetery. Sydney Baker is buried next to his brother Jack Baker in section A, in unmarked graves.
6.) Marion Elizabeth, who married Dr. Victor G. Williams of Winnipeg, son of Sir Frederick Williams of Cornwall, England, and who served in the Royal Army Medical Corps, British Expeditionary Forces. The Manitoba Morning Free Press, Winnipeg, of Tuesday, June 11, 1895 reported the wedding on page 7. "The marriage of Miss Marion E. Baker, daughter of the late Godfrey Phipps Baker, of Ottawa, to Victor G. Williams, son of the late Sir Frederick Martyn Williams, Bart, of Cornwall, England took place at Christ Church, Montreal, on Wednesday, the 5th day of June at 4:00 p.m. The wedding was attended by the bride's brothers, Sydney B. Baker and Hugh C. Baker and several intimate friends. The bride was given away by her mother and the bridegroom was accompanied by Hugh C. Baker, Jr., of Hamilton, Ontario. After the ceremony, Mr. and Mrs. Williams left by the steamer Montreal for Quebec and other eastern cities." Four children were born; Martin Williams, Bert Williams, Dot Williams, and a second Martin Williams, who married Maud.
7.) Dorcas Phipps, who married William A. Wilson in Binscarth, Manitoba, and had 4 children. In 1908, the children and their ages were as follows: Dorcas P. 13 years, Jessie H. 10 years, B. Zackary 8 years, and Charles 2 months.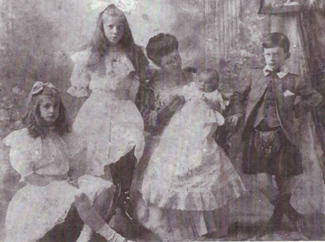 Dorcas Phipps Wilson and family, 1908.
8.) Frances Margaret, who married Alexander Gow in 1903. Alexander was a Lieutenant in Princess Patricia's Light Infantry. They had a daughter named Brenda Gow.

Click here to return to the Baker main page.