THE PATTERSON FAMILY
The Patterson page of this website is dedicated in memory of Virginia Day, who researched the Patterson family genealogy tirelessly throughout her life, before the days of the internet, when information was gathered from the recollections of family members. Virginia's enthusiasm for researching the family history was passed on to Christine Spencer, who used Virginia's letters as a starting point for her own research.
The Patterson genealogy was developed jointly by myself and Christine Meinert Spencer of Illinois. We are both descendants of George Patterson and Ann Marigold Patterson. Christine is a descendant of their son Charles Patterson and his wife, Janet Lochead. I am a descendant of their son James Patterson and his wife, Breseya Jane Pounder.
The Lanark County GenWeb hosts a Pioneer Families page by Keith Thompson. Included on this page is the Patterson family and the descendants of George Patterson and Ann Marigold Patterson. For a concise listing of the children, the grandchildren, and the great grandchildren of George and Ann, visit http://www.rootsweb.com/~onlanark/families/patterson_family_of_lanark_county.htm
Linda S. Jordan
GEORGE PATTERSON & ANNE MARIGOLD
From the Renfrew Mercury of May 6, 1894
"According to the story that has come down from the sixteenth century, the Pattersons all spelled the name with one 't' before Queen Elizabeth set about marking those of her subjects who left the ancient Catholic faith and cast their lot with the Church of England. She insisted that all the Protestant Pattersons take to themselves a second 't' and since that time many have followed that mode of spelling the name. London Standard."
George Patterson belonged to a sept of the Lennox Clan and came to Perth, Canada with the British Army. He was born May 15, 1782 and was baptized September 19, 1782 in Perth, Perthshire, Scotland, the son of James Patterson and Janet Robertson Patterson. This information was obtained from the Old Parochial Register (OPR) for Perth, Ref 387/7, Frame 2025. (Researched by Christine Spencer and kindly shared with me.) George joined the Perth Militia in 1798 at the age of 16 and served at various places in the British Isles. It must have been during this time that he met and married Ann Marigold (also spelled Merigold) from Worcestershire. They were married in London, England. George was discharged from the militia and then joined the 37th Regiment of Foot (Hampshire Regiment) April 19, 1809. In early 1810 the regiment was at Derby and moved to Cork, Ireland in June, 1810. In early 1812 the regiment moved to Gibraltar and from there, in 1814, to France with Wellington on the Peninsular Campaign. George was wounded in the Peninsular War and his wife Ann came to Gibraltar from England to nurse him. The couple stayed with the army and George repaired shoes for the troops. While in Gibraltar, a daughter was born. She died and was buried in Gibraltar. The regiment then went to Canada in June, 1814, leaving aboard two vessels, the Juliana and the Horniant. They arrived in Burlington, Upper Canada in October. They had been sent to assist in the War of 1812, but arrived too late to participate. From Irving's Officers of the British Army in Canada, 1812-1816, pages 23-24:"The regiment was stationed at Montreal, Kingston and Quebec, with detachments at Amherstburg and other stations. This regiment, also called the Hampshire Regiment, wore colours that bore the words, 'Minden', 'Torunay', and 'Peninsula.'"
A STORY OF WATERLOO
From the Perth Courier, October 23, 1896. As told by James Patterson about his father.
George Patterson was a native of the old city of Perth, Scotland, and a soldier in the 37th regiment of British Foot. He was with his regiment at the battle of Waterloo, and was witness to a somewhat remarkable incident in that day's memorable events. In another regiment stationed near his was a private named Samuel Muirhead, also a Scotchman, who, just as the two armies were about to join in deadly combat, asked his superior officer for leave to fall out of the ranks for a minute or two. This was granted, and Muirhead advancing to the front of his company, took off his shako, knelt down, and uttered aloud a prayer. He then resumed his place in the ranks, and was ready for the fray. The Frenchmen were chuckled out, without doubt, and it may be that Samuel gave his prayer some credit for the result, as he was an evident believer in the efficacy of prayer. Both soldiers escaped the bloody fate of many thousands of their comrades that day, and the praying Muirhead was promoted to a sergeancy after the battle, so his brother soldier Patterson tells.
Ann Marigold (Merigold) was born in Worcestershire in 1791 and died May 3, 1867.

Ann Marigold brought this cameo from Gibraltar in the early 1800's.
Matilda Marigold Patterson Bowland was given the cameo by her grandmother, Ann Marigold. At the age of 89, Matilda passed the precious heirloom to another descendant and enclosed a letter detailing some of the family history. The letter dated October 17, 1951 explains:
The cameo belonged to my paternal grandmother, Ann Marigold who married my grandfather George Patterson in London, England. George was a lieutenant in the army and fought against Napoleon being wounded in Spain. His wife went to him, leaving her young son Walter with her own mother and father. She remained with her husband, whose wound was not serious, till the end of the war, giving birth to a daughter while there. This child died on the way home and is buried at Gibraltar. After the Battle of Waterloo, the soldiers were given a grant of land in Canada if they cared to emigrate. Large numbers came to Canada and settled in and around Perth. My grandparents came there in 1820 leaving Walter in England. He did not come out to join the family until he was a young man. I do not know if any others were born in England but altogether there were 14 children. Grandmother must have brought the brooch with her from home as the stores in Perth were very primitive in those days. So I hope you will enjoy having it for it is beautifully made.
The cameo has been passed down through generations and is treasured today by descendants.
George Patterson was granted land based upon his service. On microfilm reel number C4651 in the National Archives of Canada, he shows as follows: private, 37th Foot, 1 adult male, 1 adult female, 2 male children under 12. His country is listed as Perth, N.B.(North Britain). He was located on July 16, 1816 to Bathurst, Concession 5 NE14, Lanark County. His settling duties had been performed. On the 1819 census of Bathurst Township, Ann and George are shown with three children: Janet, Charles and John. On the 1821 Assessment List of Bathurst Township George is still shown as being on Lot 14, Concession 5. By 1842, he had moved to Perth. He is shown as a shoemaker. One member of the family is temporarily absent. One member is a native of England, one of Scotland, and 5 natives of Canada. They had lived in the province 27 years. There were 2 females 14-18; 1 male, single, 21-30; 1 male 30-60 married; 2 females 14-45, single; and 1 female over 45 married. Seven members of the Church of England.
Obituary of George Patterson
Perth Courier, July 25, 1862, Page 3
Died, on the 20th instant, George Patterson, Sr., in the 81st year of his age. The deceased was a native of Perth, in Scotland, and came to Canada in 1814 with his Regiment, the 37th Regiment of Foot, and took his part in the struggle then going on with the neighbouring States. He was discharged in 1816, when he came to Perth and settled here, where he continued to reside until the day of his decease. Before coming to Canada he served with his Regiment through the Peninsula War. He was universally respected and esteemed by all who knew him. Was for many years a member of the Episcopal church and died in the full and firm hope of a blessed immortality.
Obituary of Ann Marigold (Merigold) Patterson
Perth Courier, May 17, 1867, Page 2
Died--At the residence of her son-in-law, Mr. Andrew Allan, Balderson's Corners, on Friday, May 3rd, Ann, widow of the late Mr. George Patterson, aged 76 years. The deceased was a native of Worcestershire, England, and with her husband came to Canada and settled in Perth in 1816, when what is now the site of the town was covered with trees. She leaves six sons, two of whom reside in Perth, and two daughters to mourn her loss.
It is not exactly known where George and Ann Marigold Patterson are buried. The old Perth Burying Grounds (Craig Street Cemetery) opened in 1820 and many old pioneers were buried there. A George Paterson is interred in plot 93 in the Anglican section of the cemetery. However, when the Elmwood Cemetery opened, some graves from the Craig Street Cemetery were moved to Elmwood Cemetery.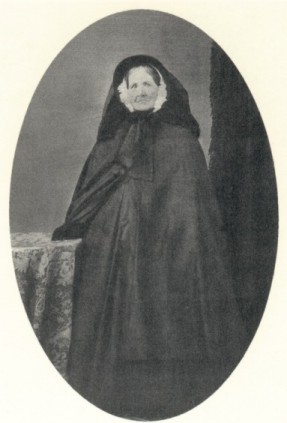 Ann Marigold Patterson
George Patterson and Ann Marigold brought their family to Canada in the early 1800's. The children of this pioneer family, and their descendants are featured on individual pages as follows:
Walter Patterson
Richard or John Patterson
Charles Patterson
Janet Patterson
James Patterson
George Patterson
Eliza Patterson
Ephraim Patterson
---
If you wish to contact me about any of the above information, please e-mail me, Linda S. Jordan at . If you wish to use any of the information found on my website, kindly e-mail me and ask for my permission. Content copyright Linda S. Jordan 2003 - 2022 unless otherwise noted.