The second child of George W. Baker & Ann Cole:
Ann Cole Baker
Ann was born September 10, 1819 in Woolwich, County of Kent, England and christened Feb. 11, 1820 and she died November 8, 1873. She married Arthur Lloyd Monk. He was born in March, Ontario, Canada, the son of Captain John Benning Monk (born February 11, 1794 at Windsor, N.S., Canada, and died 1854) and Elizabeth Anne Fitzgerald (born 1798, Tipperary, Ireland).
In a publication of the Ontario Historical Society, a chapter entitled The Settlers of March Township, by Mrs. M. H. Ahearn, the following states: "The first settler to locate was Captain John Benning Monk, of H.M. 97th Regiment, who arrived in June, 1819, having been paddled and portaged in boats from Montreal, where he had the misfortune to lose his baby daughter. Leaving his wife in Hull, Captain Monk proceeded by river to March, where, with his soldier servants, he constructed a rude shanty, to which he brought Mrs. Monk, and which was aptly named 'Mosquito Cove' by the much tormented occupants, and the name remains to indicate the locality, though the building has long since disappeared. The little house was not altogether weatherproof, as we may imagine, and it is told of Mrs. Monk that, during heavy rainstorms, she made an ingenious use of a large tin tea-tray as a shelter from the dripping roof for the baby in its cradle, and listened complacently to the tinkle of the rain-drops, feeling sure that baby at least was cool and dry."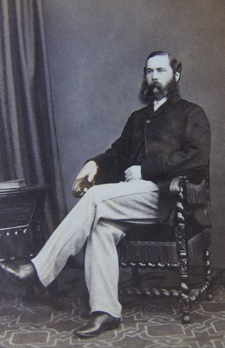 Arthur Lloyd Monk, 1866
Photo courtesy of Cheshire Regiment Museum
Arthur Lloyd Monk is mentioned in the book "Ever Glorious" by Brigadier Bernard Rigby. This book is the definitive history of the 22nd Cheshire Regiment. Arthur Lloyd Monk joined the 22nd Cheshire Regiment just prior to 1850. He participated in the expedition against the Boree Afreedies 29th Nov 1853, under Colonel Boileau. As a Lieutenant at the time, he received the India General Service medal, clasp North West Frontier. He continued his service in India until 1855 when his Battalion returned to England. After service in Ireland the Battalion once more travelled overseas to serve in Malta. In March 1863 the 1st 22nd left Malta journeying to Canada and Fredericton. While in Fredericton, the 1st 22nd enjoyed many outdoor pursuits. The photo above was found in an album of Officers of the 22nd Regiment, taken while the officers were posted in Fredericton about 1866. Acknowledgement for the above information about Arthur Lloyd Monk to Geoff Crump, Regimental Researcher for the Cheshire Regiment Museum.
Anne Cole Monk died on November 8, 1873 at Woburn Rd., St. Paul, Bedford, in the County of Bedford, England. She was aged 53 years and the wife of Arthur Lloyd Monk, Late Major 22nd Regiment. Her death was certified to be caused by Tabes. R. H. Kinsey was in attendance and was the informant of her death.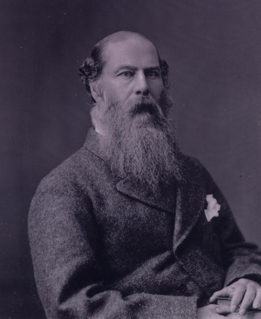 Arthur Lloyd Monk, 1878. Source: Library and Archives Canada/William James Topley Collection/Image no. 004666041/Monk Major. Photo was cropped.
In the Historical Atlas of the County of Carleton, Ontario, issued in 1879, Arthur Monk is shown to own property on Concession 7, lot 24 (100 acres) and Concession 8, Lot 24 (18 acres).
A fenced grave is situated a few yards south of the road between mileposts 44 and 45 on Colorado 114 west of Saguache. The tombstone reads:
Arthur Lloyd Monk
Major to HM 22 Foot
Died April 19, 1883, aged 51 years, 7 months, 18 days
"And the burden laid upon him was more than he could bear"
From the tombstone information, Arthur Lloyd Monk was born Sept. 1, 1831. Other information has his birth date as Sept. 16, 1830, the son of John Benning Monk and Eliza Ann Fitzgerald. Arthur Lloyd Monk came to the United States in 1877 and lived as a cattle farmer in the 8th precinct of Saguache County at the 1880 census, along with two children. His son, also named Arthur Lloyd Monk, was born October 26, 1857. His daughter, Beatrice Jessie Monk was born Sept 16, 1860. His wife Ann Cole Baker, who was eleven years his senior, died in 1873.
First Child of Ann Cole Baker and Arthur Lloyd Monk: Arthur Lloyd Monk Jr.
Arthur Lloyd Monk Jr. was born in England on October 26, 1857. Arthur who came to the United States in 1877 and was working as a stenographer. He married Charlotte M. Breckenridge in Morrisburg, Ontario on February 16, 1882. At that time, Arthur and Charlotte moved to Colorado.
The Saguache County Public Library published an article called "Remember When?" From the diary of Rev William Worthington, he wrote on August 24, 1885 that he had spent the afternoon at Rockecliffe, the ranch of Arthur Monk. It was a long but enjoyable ride of sixteen miles by upper road. They were met by Arthur Monk, his wife and two small children, Frances Ethel and Benning Arthur. The Reverend wrote that they stayed up late talking and found there were many friends in common back in Canada. Miss Florence Forrest was there as a sort of governess for the children.
The 1900 Census for Arapahoe County in Colorado shows the family of Arthur Lloyd Monk. Arthur L. Monk was born in England in October, 1857. His wife, Charlotte M. was born in Canada in 1857. A daughter Frances Ethel Monk was born 1882, and a son George Benning Monk was born 1884. Both were born in Colorado.
The US Census of 1920 shows Arthur Lloyd Monk and his wife Charlotte living in Denver, Colorado. Arthur is about 60 years of age and working as a secretary for the rail road. Their daughter Frances Ethel Monk married George Lapham Penley who was born 1884 and died 1941. George Benning Monk married, and died June 21, 1946 in San Francisco.
Second Child of Ann Cole Baker and Arthur Lloyd Monk: Beatrice Jessie Monk.
Beatrice Jessie Monk was born September 16, 1860 on the Isle of Wight. She was married to widower William Henry Berry on February 28, 1881 at St. John's Church, in March Township, Carleton County. One of the witnesses was George Monk Greene of Ottawa, who was born 1858 and who died 1914. Another witness was Fanny Greene. William Henry Berry was aged 24 at the time of his second marriage. He was born in Huddersfield, England. He married firstly Anna Maria Greene who was a sister of Robert Young Greeme who was born 1820 and died 1882. They had a son William Morley Berry who was born May 7, 1871 in March Township. At the time of William Henry Berry's second marriage, Beatrice Jessie Monk was aged 20. William Henry Berry and his second wife Beatrice Jessie Monk had a son Arthur Massey Berry who was born June 19, 1888 in March, Carleton County. It was a late birth registration and at the time Beatrice registered her son's birth in September 1925, she was living in Guelph, Ontario.

Click here to return to the Baker main page.