The Seventh Child of George W. Baker & Ann Cole:
Sydney Bathurst Baker
Sydney was born February 25, 1830, in the parish of Woolwich, County of Kent, England. He was baptized March 11, 1830 by Rev. H. Fraser. At the time of baptism his father is listed as a Captain in the Royal Artillery and their abode is listed as Belmont Place. He married Rachel Amanda Cory on January 24, 1854 at Wellington, Prince Edward County, Ontario. Rachel Amanda Cory was born on February 6, 1834 to Dr. Benjamin Sayre Cory and his wife, the former Fanny Young. Benjamin Sayre Cory died 1885 in Hamilton. He was born in the U.S.A. Fanny Cory died in 1891 in Hamilton, Ontario. Rachel Amanda Cory was sister to Kate Cory who married George William Baker.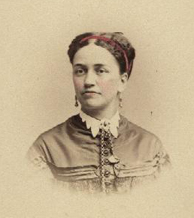 Rachel Amanda Cory
George William Baker, son of Sydney Bathurst Baker and Rachel Amanda Cory
On December 7, 1854, George William Baker was born in Hamilton. His baptism was on January 31, 1855, as described in the diary of Emma Wyatt. "Amanda's baby christened but poor Amanda herself unable to be present being ill with a bilious attack. Hugh, Mr. Simons & Kate its sponsors. George William is the baby's name." George William married Lydia M. Hazlewood and had two children, Fanny Hazlewood, born November 14, 1882 in Manitoba, and Harold L., born November 19, 1884 in Ontario. At the time of the 1901 census, George William Baker and his wife Lydia M. Hazlewood lived in Toronto. George William Baker was an advertising agent. Lydia gave her birthdate as April 30, 1854; she and her husband were both 46 years of age. Living in the family home were daughter Hazel Baker, aged 18, and working at the telephone office, and son Harold Baker, aged 16, who was an electrician. George William Baker died 1902.
At the time of the 1911 census, Lydia Baker was widowed and living at 575a Spadina Ave in Toronto. Her son, Harold Baker was living with her, working as an electrical machinist in a factory, along with Lydia's mother Elizabeth Hazlewood, and her brother Alexander Hazlewood. Lydia's daughter, Fanny married William Howlett, and had two children; Mary, born 1909; and William G., born 1911. Harold L. was unmarried.
Fanny Cole Baker, daughter of Sydney Bathurst Baker and Rachel Amanda Cory

Fanny Cole Baker Harris
Fanny Cole Baker was born February 15, 1857. Fanny Cole Baker married at age 24, George Ferland Rykert Harris of Toronto on August 24, 1881 at Hamilton, Ontario. George F. R. Harris was the son of Thomas Dennie Harris and Lucy Charles Harris, and was an accountant, age 30 at the time of his marriage. At the time of the 1901 census, the family was living in Toronto. George F. R. Harris was born September 18, 1850 and was aged 50, employed as a loan manager. His wife Fanny C. was aged 44, born February 15, 1857. Their children were Marion R., aged 18; Guy M., aged 15; Marjorie C., aged 11; Thomas D., aged 8; and Sydney B., aged 4. George F. R. Harris later represented Canada Permanent Mortgage Corporation at Winnipeg. At the time of the 1911 census, the family was living in Winnipeg, Manitoba. George F. R. Harris was a loan manager who gave his age as 62; his wife Fannie C. gave her age as 54; Thomas D. was aged 19; Sydney B. was aged 14; Marjorie C was aged 22. George F. R. Harris died June 27, 1938. His wife, Fanny Cole Baker Harris died a few months after her husband on October 30, 1938.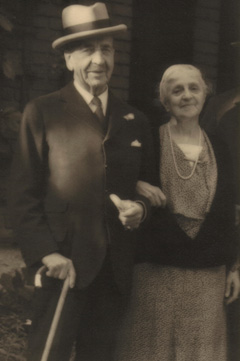 George Ferland Rykert Harris and Fanny Cole Baker Harris, on their 53rd wedding anniversary.
The children of Fanny Cole Baker and George F. R. Harris were:
1. Marian Rachel Harris, born November 27, 1882 and who married Ralph W. Hoskins on June 16, 1908. Ralph W. Hoskins lived in Toronto. They had two children, Lucile and Ralph Ferland H. Hoskins. Ralph Ferland H. Hoskins married Ethel Alice Bonsall Brunton on June 6, 1942. Ralph and Alice Hoskins had a daughter, Elizabeth Hoskins who married Robert Wilkinson. Ralph Ferland H. Hoskins died July 13, 1994.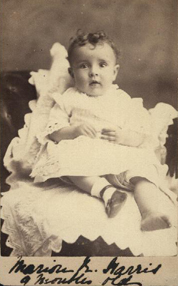 Marion Rachel Harris at nine months of age.
2. Guy Mewburn Harris, born September 16, 1885, married Marion Richardson in 1910. At the time of the 1911 census, Guy M. Harris was aged 25, living in Winnipeg, Manitoba with his wife Marion, aged 23. They had four children; Marion born April 16, 1912, Audrey born 1914, George born 1916, and Sydney. Guy Mewburn Harris died February 27, 1949 at Vancouver, B.C.
3. Marjorie Charles Harris, born September 10, 1889, who married William Thomson Chisholm September 6, 1913 at Winnipeg, and had three children, Joan, Douglas, and Marjorie Ann.
4. Thomas Dennie Harris, born July 3, 1892 who married Laura Gyles and had five children, George, Kathleen who was known as Kay, Dennie, Joy, and Geraldine Harris.
5. Sydney Baker Harris, born September 8, 1896 and died December 16, 1923 at the age of 27.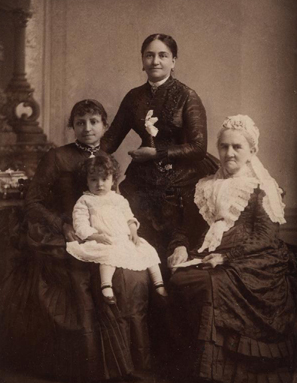 CLOCKWISE: Mrs. T. C. Mewburn (Rachel Amanda) (1834-1917), Mrs. Dr. Ben Cory (Frances) (1807-1891), Marion Rachel Harris, born 1882, Fanny Cole Baker Harris, born 1857.
Sydney Bathurst Baker died June 4, 1859 in Waukegan, Lake County, Illinois, at the age of 29. Upon Sydney's death, Amanda wed Mr. Thomas Chilton Mewburn, inspector customs, on July 20, 1862, in Hamilton, Ontario. The Chicago Evening Journal announced the wedding on Monday July 21, 1862. "At the residence of N.P. Wilder, Esq., July 20th, by the Rev Dr. Wilkinson, Thomas C. Mewburn, of Hamilton, Canada, to Amanda, daughter of Dr. B.S. Cory, of Waukegan, Ill."

Thomas Chilton Mewburn had been married before also. His first wife was Jane Courley Hamilton, daughter of Robert Hamilton of Queenston, who was born 1821 and died 1861. Jane Courley Hamilton married Thomas Chilton Mewburn in 1847 and they had two children. Jessie Hamilton Mewburn was born January 25, 1848 and married James Young in 1966. James Young was born January 10, 1830, and was a son of Reuben Young (1805-1899). Reuben was a brother of Fanny Young (1807-1891) who was the wife of Dr. Benjamin Sayre Cory. The second child of Thomas Chilton Mewburn and Jane Courlay Hamilton Mewburn was Robert Charles Chilton Mewburn who was born 1850 and died 1854.

A story is reported in the Hamilton Evening Times Friday July 22, 1864, of the attempted murder of Thomas Chilton Mewburn. On the 5th of April last, a desperate effort to rob the banking establishment of Messrs. Hamilton & Davis, on James St., Hamilton, was made by a gang of burglars. Mr. Mewburn, the bookkeeper of the banking house, was awakened at his home on West Main Street, Hamilton, before four o'clock in the morning by the sensation like that caused by the application of chloroform to his nostrils, and discovered a dark figure escaping from his room. He sprang to a case of pistols at hand and attempted to fire at the burglar, but the cap burst without discharging the weapon. To protect his family, Mr. Mewburn stated that he had intended to kill the burglar. He then went to the gas light and turned it up, throwing light on the face of the burglar. As the burglar and Mr. Mewburn faced each other, the burglar raised his arm and aimed the pistol at Mr. Mewburn and fired. He then moved out and commented that he had not intended to kill Mr. Mewburn. The ball passed within two inches of Mr. Mewburn's head and penetrated the mirror. Mr. Mewburn then bolted the children's bedroom door and went downstairs to find that the hall window was open. Mr. Mewburn supposed that the burglar entered by the hall window, intending to find the keys to the safe, but the keys were kept sometimes by Mr. Hamilton, sometimes by Mr. Davis, and sometimes by Mr. Mewburn. Besides Mr. Mewburn, his wife, children, and two servant girls were also present that night.

Two weeks after the robbery and murder attempt on Mr. Mewburn in Hamilton, a similar crime was committed in Woodstock, and later a grocery store was also robbed. Mr. Mewburn's description of the person who entered his house led the police to arrest James McElroy and his gang. James McElroy was convicted of shooting Mr. Mewburn and also of burglarious entrance into Mr. Mewburn's home.

Rachel Amanda had one son by her second marriage, Sydney Chilton Mewburn, born December 4, 1863. Sydney Chilton Mewburn became a barrister and was a Major in the 13th Regiment, Hamilton. He married Mary Caroline Labatt of London, Ontario, who was born January 30, 1862. The wedding of October 10, 1888 was reported in Hamilton as follows:

MEWBURN-LABATT

A Popular Young Hamilton Barrister Wedded in London

On Wednesday afternoon Miss Mary Labatt, of London, a sister of John Labatt, well known as a successful brewer, was married to Sydney C. Mewburn, of the firm of Mackelcan & Mewburn, barristers, of this city. The following account of the event is taken from the London Advertiser of Wednesday evening: A large and fashionable concourse filled St. Paul's Cathedral this afternoon, when the marriage of S. C. Mewburn, of Hamilton, son of the inspector of customs, to Miss M. C. Labatt, daughter of the late John Labatt, of this city, was celebrated. As usual on such occasions the vast majority of those present were ladies. The ceremony was performed by Rev. Dean Innes, while John Labatt gave the bride away. The bridesmaids were Miss Mena Labatt, and Miss Katie Chapman, of Hamilton, while the groomsmen were George Thompson, of Hamilton, and H. Wyatt, of Toronto, Herbert Ambrose, of Toronto, Robert Hobson, of Hamilton, George Gillespie, of London, W. W. Osborne, of Hamilton, and R. H. Labatt, of Hamilton, officiated as ushers. The bride was arrayed in a magnificent white satin dress trimmed with lace, while the bridesmaids were similarly costumed, and each carried a beautiful bouquet of natural red roses. Among the guests present were Mr. and Mrs. T. C. Mewburn, parents of the groom; Mr. and Mrs. Harry Mackelcan, Mrs. Thompson, Mrs. Chapman and Miss Edith Chapman, Mr. and Mrs. Robt. M. Steele, Mr. and Mrs. Hugh C. Baker, Dr., Mrs. and Miss Gaviller, R. H. Labatt, Robt. Hobson, assistant secretary to the general superintendent of the Grand Trunk, Wm. Osborne and George Thompson, all of Hamilton; Mr. and Mr. George Labatt, of Prescott; Mr. Matheson, collector of customs, Sarnia; Mr. and Mrs. Harry Carling, Dean and Mrs. Innes, Miss McClimont, Rev. Mr. Hicks, Mr. and Mrs. Talbot Macbeth, Mr., Mrs. and Miss Mackenzie, Geo. Harris and Mrs. and Miss Harris, Mrs. Hunt, Mrs. Nelles and George Gillespie, all of London; Mrs. and Miss Ross, of Quebec; Herbert Ambrose and Harry Wyatt, of Toronto, and many others. The presents to the bride were magnificent, comprising a piano, many beautiful pieces of silverware and hundreds of other articles. Mr. and Mrs. Mewburn left for a trip east by the 4:30 train.

The children of Sydney Chilton Mewburn and Mary Labatt were Charles Labatt Mewburn, born October 27, 1889, who married Naomi Jessie Grant and who died 1973; John Chilton Mewburn, born October 17, 1893 who was killed during World War 1 in 1916; and Helen Mary Mewburn, born March 23, 1895, who married David S. Thompson. Sydney Chilton Mewburn died 1956.

Mr. Thomas C. Mewburn, Inspector of Customs, Dies Monday

Hamilton Times, March 7, 1892

Another of Hamilton's old and honoured citizens has been called to his long home, Mr. T. C. Mewburn, Inspector of Ports in the Customs Department, having died rather suddenly at 4 o'clock Monday at his residence, No. 262 Main street west. Mr. Mewburn has been unwell for two months, but his indomitable perseverance kept him at his duties when he should have been at home under the doctor's care. La grippe laid a heavy hand upon him, and, off and on during the two months he was compelled to give up work for short times in spite of himself. On Friday he was not well, but on Saturday morning he arose and started for the station, intending to go to Dundas on customs business. He was so ill that he had to return home and spend the day there. He had a bad attack of dyspepsia on Saturday evening , but was better Sunday morning, and at supper time yesterday said he was very much better. During the night, however, the symptoms of dyspepsia returned, and from the complication heart failure resulted, and death came about 4 o'clock in the morning. Mr. Mewburn had reached the age of 70 years. He was a man of unusual activity and though sometimes eccentric in his ways was very much liked by the custom house employees from the highest to the lowest. He was born in Whitby, Yorkshire, England, on January 18th, 1822, and was son of Dr. Mewburn of that place. In 1833 he came with the family to this country and settled at Niagara Falls. In 1837, a lad of 15 years, he took part in the troubles of that time, as a volunteer. Subsequently he entered the post office at Queenston, and in 1845 was appointed to a clerkship in the custom house at Port Colborne. In 1852 he came to Hamilton, and was in various occupations, principally banking and real estate, for some years. In October, 1875, he was appointed clerk in the custom house here, and in July, 1877, was made Inspector of Ports, one of the highest offices in the department, an office which he has filled with credit ever since. He was twice married, his first wife being Miss Jane Gourlay, daughter of Mr. Robert Hamilton, of Queenstown. One daughter, Mrs. Young, of Trenton, survives. His second wife was the daughter of the late Mr. B. S. Corey, of Wellington, Ont., and Mr. Sidney C. Mewburn, barrister of this city, is their son. Mr. G. W. Baker of Buffalo, is a stepson, and Mrs. G. F. R. Harris, of Winnipeg, a stepdaughter. Mr. Mewburn had a very thorough knowledge of the collection of customs, and took great pleasure in searching up old documents and books in relation thereto. He had picked up in odd places some very valuable old works. The funeral will take place tomorrow.

The Mewburn monument in Hamilton Cemetery is the resting place for Thomas Chilton Mewburn. The inscription for Thomas Chilton Mewburn is as follows: Thomas Chilton Mewburn Born at Whitby England, January 8, 1822. Died at Hamilton March 7, 1892, "I will lay me down in peace and take my rest." His wife's inscription is as follows: To the Glory of God and in loving memory of Rachel Amanda Mewburn. Died at Winnipeg 29th January 1917 in her 83rd year. Wife of the late Thomas Chilton Mewburn. "Her children rise up and call her blessed."

Click here to return to the Baker main page.