The fourth child of George W. Baker & Ann Cole
Godfrey Phipps Baker
Who first married Elizabeth Julia Clements
Godfrey was born August 25, 1822 in Shooter's Hill, Woolwich, England; baptized in Plumstead, Kent, England and died March 16, 1882 in Ottawa. He married Elizabeth Julia Clements on May 25, 1852 in Ottawa. Elizabeth was born in 1832 and died in 1858.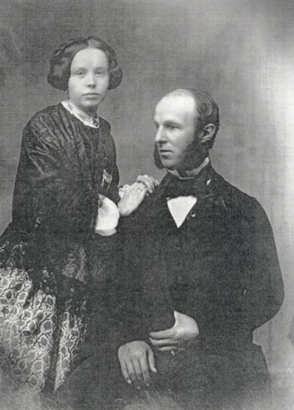 Godfrey Phipps Baker and Elizabeth Julia Clements Baker
Elizabeth Clements' parents were Col. Frederick Willam Depeyster Clements (1790-1859), of the Royal Canadian Rifles and Alicia Frances Brickenden (1801-1877). Elizabeth was the great granddaughter of the 6th Earl of Cavan through her mother, Alicia. Alicia's parents were Elizabeth Jane Lambart (April 16, 1775-Jan. 17, 1830) and her second husband Rev. Richard Brickenden (1768-1846). Her first husband had been William Henry Ricketts (1764-1805), son of Mary Jervis (1737-1828) and William Henry Ricketts (1736-1799). Mary Jervis' parents were Elizabeth Parker, daughter of George and Martha Parker, and Swynfen Jervis (1700-1771).
(Information above taken from Letters From Canada 1843-1972 by D.D. Calvin, published in the Queen's Quarterly: A Canadian Review, Volume LVI, Spring, 1949, #1).
When Elizabeth Jane Lambart married Richard Brickenden they had, in addition to Alicia Frances, three other children:
1.) Maria Elizabeth, christened January 2, 1802 in London (Chelsea), and who married Thomas Henry Algernon Stephen on January 29, 1822 in Westminster, London. She died in 1863. Maria and Thomas had at least one son, Alexander Richard Stephen (1827-1908) who was a doctor and lived in Collingwood, Ontario.
2.) Frances Ann Hester, who was born April 10, 1808, christened May 4, 1808 in London (Chelsea) and married John Clayton Cowell on November 14, 1829. They had three sons and two daughters.
3.) Richard Thomas William Lambart, born April 2, 1809 and christened December 18, 1811 in London (Chelsea) and married Robina Gordon (1822-1851) on February 22, 1842 in Edinburgh, Midlothian, Scotland. They had at least two sons and one daughter. Richard died January 6, 1900.
Obituary of Elizabeth Jane Lambart Brickenden
Grandmother of Elizabeth Julia Clements Baker
From Gentleman's Magazine, January, 1830: In Park-row, aged 54, Lady Elizabeth Jane, wife of Rev. Richard Brickenden, and sister to the Earl of Cavan. She was the only daughter of Richard the 6th Earl by his second wife Elizabeth, the daughter of William Davies, Esq. Commissioner R. N.; was married first, Nov. 9, 1793, to Capt. William Henry Jervis, R.N. elder brother to the present Viscount St. Vincent, and by him had two daughters Martha-Honora-Georgina, married in 1824 to the late Osborne Markham, Esq. who in consequence took the name of Jervis; and Henrietta-Elizabeth-Mary, married in 1817 to Capt. Edmund Palmer, R.N. In 1799 her Ladyship's marriage with Mr. Jervis was dissolved, and she was married secondly in March, 1800 to the Rev. Richard Brickenden, by whom she had children.
Captain William Henry Jervis, mentioned above, was born William Henry Ricketts. At the time of his marriage to Lady Elizabeth in 1793, his surname was Ricketts, but it was changed to Jervis in 1801.
The text below is taken directly from The Canadian Biographical Dictionary and Portrait Gallery of Eminent and Self-Made Men: Ontario, published in Toronto & Chicago by the American Biographical Publishing Company, 1880, pages 721 and 722.
Godfrey P. Baker, Ottawa
Godfrey Phipps Baker, postmaster of Ottawa, descended from the Bakers of Sissinghurst, Cranbrooke, England, and is the second son of George William Baker, by Ann, the eldest daughter of John Cole, once Mayor of Norwich. He was born at Shooter's Hill, Woolwich, England, in August, 1822. His father was a captain in the Royal Artillery, and having sold his commission, came in 1832 to Upper Canada, settling at Bytown, then a village in its infancy, and very unpromising at that. Two years later, Captain Baker was appointed postmaster, to fill a vacancy caused by the demise of Matthew Connell; and for some years the elder brother of our subject, Hugh Cossart Baker, had charge of the office, the present postmaster rendering such assistance as he could, being a lad just entering upon his teens.
Forty and fifty years ago, the present county of Carleton was in the Dalhousie District and in 1842 Mr. Baker, though being then under age, was chosen district clerk, a position which he faithfully filled for four years, and at the same time that of slide-master of the old Buchanan slide, which eventually passed into the hands of the Bank of Upper Canada. In 1846, his brother removed to Toronto, and our subject took full charge of the Bytown post office, and in 1857, on the resignation of his father, the son became his successor, and has held the office for twenty three years. It is one of the best managed post offices in the Dominion of Canada; and the growth of its business can best be understood by the statement of the fact that twenty-eight years ago Mr. Baker managed the office alone, and that now he has a staff of forty-one clerks. Ottawa, being the capital, a vast amount of "free matter" passes through this office, making a great deal of work without any showing in dollars and cents; yet the post office returns show only two offices in the Dominion--those of Montreal and Toronto--that are ahead of Ottawa.
Mr. Baker has been for a long time connected with the militia of Canada, and has held various positions, being at one time an officer of the 2nd Carleton militia, and later a member of the Civil Service Rifles.
Mr. Baker married first in 1852 Elizabeth Julia, third daughter of Colonel Frederick W. Clements, of the Royal Canadian Rifles, by Alicia Brickenden, granddaughter of the sixth Earl of Cavan, and by her, who died in 1858, had four children, only two of them now living. He married, secondly, in 1861, Marion Johanna, eldest daughter of Dr. John Macauley Hamilton, who after retiring from the Royal Navy, brought his family from Orkney to Canada, and settled at Hamilton, and by her has eight children.
He is a member of the Church of England, a man of irreproachable character, warm-hearted, social and kindly in his disposition, and a friend of the unfortunate. Some writer says he has "grown gray in the public service", which is correct; but he has not grown old in feelings at least. He belongs to that class who take good care of themselves; keep on the sunny side of life's broad highway, and are always young. He stands a good chance to 'fly in the face of Scripture" as Joseph Chuzzlewit would say, who maintained that anybody who lived beyond the Bible allotment of time--three score years and ten--could not have a conscience and a "proper sense of what was required of him" not having any business to live beyond that number of years.
An article appeared in the Ottawa Free Press on Saturday, May 28, 1881, concerning the problems which came up during a typical day of processing the city's mail. "The amount of ignorance and carelessness displayed by correspondents in addressing their letters is something surprisingly great, as will be seen by a glance at the Dead Letter office returns. But these returns do not convey an adequate idea of the extent of the evil, as many never find their way to the Dead Letter office, owing to the care and pains taken by those much abused public servants, post office officials. A Free Press reported had a talk upon this subject yesterday with Mr. G.P. Baker, the postmaster at this city. Few men know more about this matter than Mr. Baker, for he has spent a life time in the Ottawa Post Office. His first post office experience dates back to 1834, when he was a little boy and used sometimes to be left in charge of the office by his brother, who was then Postmaster, and he has remained in the office ever since. The Ottawa Post Office is now a very different establishment to what it was when Mr. Baker first recollects seeing it. It was then contained in a dry goods store, and one man was sufficient to attend to the customers in the shop and the business of the Post Office. Now a staff of forty have as much work as they can attend to. Mr. Baker says that every day numbers of improperly or carelessly addressed letters are received in the office. Every effort is always made to discover the addressee, but, if that cannot be found, then there is no help for it but to place the matter in the hands of the Dead Letter office.......Mr. Baker can recollect a very queerly addressed letter that passed through his hands once. It was a great many years ago, before the introduction of cheap postage. One day an old Irishwoman came to the post office and asked him if he had a letter for her from her son. Mr. Baker searched among the letters, but found none addressed to her. The old lady, however, was not to be put off, and insisted that there must be a letter for her, as her son would never neglect to write to her. It then flashed across Mr. Baker's mind that a short time previously he had received a letter addressed "To My Mother". He asked the old lady where her son lived and she replied at Skibareen. Sure enough, the letter bore the Skibareen post mark and proved to be from her son."
Godfrey is buried in the Beechwood Cemetery, Section 50, Ottawa: "In memory of Godfrey Phipps Baker who for 25 years was postmaster of the City of Ottawa, died March 16, 1882 aged 60 years. This monument is erected by friends." His second wife Johanna is also buried there: "Marion Johanna Hamilton, beloved wife of Godfrey Phipps Baker, born March 31, 1833, died March 5, 1903."

The Children of Godfrey Phipps Baker and Elizabeth Julia Clements
Four children from Godfrey Phipps Baker's first marriage were born. Elizabeth Brickenden Baker died September 15, 1853 at the age of 6 months. George William Baker was born August 4, 1854 and died in 1917. Godfrey Phipps Baker was born 1855 and died 1857. Frederick Clements Baker, was born August 10, 1858, lived in Okanogan, British Columbia, never married, and died in 1932. Elizabeth Julia Clements Baker died at the age of 26 years on September 10. 1858. She was buried at Sandy Hill Cemetery, Ottawa.
First Son of Godfrey Phipps Baker and Elizabeth Julia Clements: George William Baker
George William Baker, son of Godfrey Phipps had a distinguished career. He was a barrister in Ontario in 1881 and moved to Manitoba in 1882. He formed a law firm called "Patterson & Baker" with E. George Patterson in Winnipeg. George Patterson was the husband of his first cousin, Annie Gertrude Baker Patterson. Ads were placed in the Winnipeg Times to attract business to the firm.
The Winnipeg Times, Friday September 15, 1882:
Patterson & Baker Barristers, Attorneys
Over Blue Store, 428 Main St., Winnipeg
George Patterson, G. W. Baker.
Money to Lend
For more information on George William Baker's law partner, E. George Patterson, see the Patterson page of this website
George William Baker, Barrister-at-Law; King's Counsel; Member of the Council of the University of Manitoba; studied law with Messrs. Stewart Chrysler and Gormully; was an alderman in Winnipeg from 1888-1889 and again in 1898. He was a police magistrate in Winnipeg from 1901 to 1903 and author of the introduction to the book Judicature Act into Manitoba. He was the Grand Junior Warden of the Freemasons in Manitoba and first commodore of the Lake of the Woods Yacht Club. He was an Anglican and served as a delegate to the Synod. His home, called Balagan was at 375 River Avenue, Winnipeg. His summer cottage, called Almorah, was at Keewatin, Ontario. On January 4, 1884, he married Jeannie Harward Eastman, born 1863, the eldest daughter of Edwin George Eastman of Hallowell, Maine, (U.S. Consul to Cork and Glasgow). Jeannie died in April of 1895.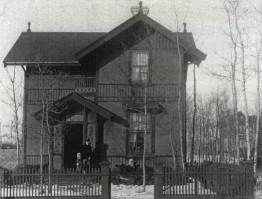 Balagan
The Home of George William Baker on River Avenue, Winnipeg.
George William Baker and his first wife, Jeannie Harward Eastman had five sons and two daughters as follows.
1. Edwin Godfrey Phipps Baker born April 21, 1885 who served during World War 1 as a Major with the 47th Battalion, Canadian Expeditionary Force. He was known as Phipps and married Mary Allison Hough (1898-1992) on June 15, 1921. He died October 20, 1963. They had 4 children, John Phipps Baker born 1922, Peter Godfrey Phipps Baker born 1924, Stephen Phipps Baker born 1928 and Miriam Baker born 1930. Mary Allison Hough married secondly in 1964 her late husband's second cousin, Dr. William Edward Baker, who was also widowed in 1963.
2.Miriam Eastman Baker born August 20, 1886, Professional Nurse, graduated from St. Luke's Hospital, New York, 1915; served during World War 1; attached to Queen Alexandra's Imperial Nursing Service, England. She died October 17, 1918 after contracting the flu during the epidemic.
3. Basil Glyn Baker born May 2, 1888, Chief Clerk, Allan, Killam, and McKay, Winnipeg; married Harriet Mary (Mollie) Tett (1886-1983), daughter of John Tett of Newboro, Ont. on June 12, 1913. He died May 16, 1936. Two children were born, Harriet Gertrude Baker, born 1914, who married Hugh Hamilton, and Mary Glyn Baker, who was born 1920. Mary Glyn Baker married Cameron Charles Varcoe (1907-1983), on July 5, 1941. Cameron Charles Varcoe was a teacher. They had four children, Cameron Basil Varcoe, Lorna Glyn Varcoe, Timothy John Varcoe, and Bruce Andrew Varcoe.
Basil Glyn Baker was famous in Canadian hockey folklore as a goaltender who scored a goal in the Allan Cup final. His obituary was reported in the Globe and Mail on May 20, 1936 as follows: FAMOUS GOALER PASSES ON. Basil Baker Was One of First Netminders to Be Credited With Assist. Hockey players of 25 years ago and business men of today mourned the death of Basil Glyn Baker, 47, tonight. Baker, star goalkeeper with Winnipeg Victorias of 1912 and one of the first goalkeepers to be credited with an assist in scoring a goal, died today at Rochester Minn., where he went for medical treatment a month ago. Rising from his first job as office boy, Baker became a partner in the financial firm of Allan, Killam & McKay Ltd. here. But Baker won most of his fame on the steel blades. He was the brickwall when Victorias met the Toronto Eatons when they came out of the East in the late winter of 1912 in search of the Allan Cup. They went home without it after losing the two game series 24-5. Kingpins of the Prairies, Victorias won the first game of the series 8-4 and then went on the rampage in the second to win 16-1. During the second game Baker got tired hanging around the Victoria goal with nothing much to do. Somebody fired a long shot and the puck came to rest near Baker's portals in the Winnipeg goal. He started up the ice, manipulating the puck like a wingman. Then he passed to Coo Dion. Dion scored and Baker was credited with an assist. Legend grew up that Baker scored the goal. But he himself went on record saying he was not the marksman. A Christmas card he sent friends a few years ago carried a lengthy verse and in referring to the 1912 hockey series he wrote: "On this one point be very clear; I swear I did not score that goal." Baker was rated Canada's No. 1 goal custodian in his day. He never forsook hockey even when he turned his interest to golf and yachting. Born in Winnipeg, he graduated from St. John's College and his first job was with the Allan, Killam & McKay firm, of which he was a partner when he died.
4. Doris Harward Baker born April 12, 1890, worked at Bank of Commerce, Winnipeg; married July 23,1919 to William McDonnell (1882-1960). Doris died 1981. Four children were born, Frances McDonnell who married Freeman Reason, William McDonnell who married Shirley Sterne, Basil McDonnell who married Doolee Merry, and Audrey McDonnell who married Kerry Hill. Basil McDonnell and his wife Doolee had five children; Ellen, Nadine, Julia, Basil, and Quentin. Basil McDonnell died in December, 2004.
5. Henry Ahern Higginson Baker born February 24, 1892. He was named after Dr. Henry Ahern Higginson, the husband of a sister of Jeannie Eastman. He was an insurance Underwriter, Winnipeg and served during World War 1 as a Lieutenant in the 47th Battalion, Canadian Expeditionary Force; married Donna Kathleen Hall on September 1, 1925. He died 1946. Two daughters were born, Betty Baker who married Frank Moorhouse and Donna Billie Baker who married Paul McNichol.
6. George Hamilton (Hammy) Baker born July 25, 1893; served during World War 1 as Captain 2nd Battalion of the 23rd Battalion, London Regiment (Imperial army); married Lillian Durkin, who was born in Minnesota. A list of Winnipeg Theatre listings for September 1-6, 1913 reveals that Miss Lillian Durkin was billed as a charming contralto as she sang "Down in Drowsy Land" at the Majestic. Later Lillian appeared on Broadway during April and May, 1920 in a musical revue called Ed Wynn's Carnival. One daughter, Marjorie Baker, was born in Long Beach, California about 1927. George Hamilton Baker died January 21, 1937. Marjorie married John Fansler. John and Marjorie Fansler had three sons and a daughter.
In September, 1912, an article was published regarding the hockey talents of Hammy Baker. The article stated that in Hammy Baker, who was but a kid of 19 at the time, Victorias had the most promising winger developed in the west since Tommy Phillips. Baker's speed was of the spasmodic type, as he darted along the ice and could brake instantaneously. Skating at topmost speed, Baker cold stop in his own length and was always prepared to go forward or check back. He was also skilled at stick handling and could skate through four or five players and come out with the puck. As well, he was said to be able to accurately predict the movements of the opposing players, as if he had telepathic instinct. The following month Hammy Baker received a big offer to turn pro. An article was published on October 22, 1912 as follows: "Hammy Baker, the sensational wing man of the champion Victoria hockey team whose brilliant work was such a feature last season, yesterday turned down an offer from Lester Patrick to turn professional. The price was $2500, but the speedy youngster refused to accept the terms and intends remaining amateur. Patrick made a special visit tot he city to see Baker as he was very anxious that Hammy should delight the coast fans this winter. It is evident that the work of the local lads attracted some attention last season as the magnates have been continually making offers and in most cases have been disappointed as the Allan Cup holders are determined to stay together. In addition to the big sum offered Baker to play hockey, he was assured of a position at the coast that would net him another $100 a month."
After Hammy Baker returned home from his service during World War 1, he moved to Calgary. Another article was published, entitled FAMOUS HOCKEY STAR NOW LIVING IN CALGARY. "Hammy Baker, known to every hockey fan as a former start of the Winnipeg Victorias, is the latest puck chaser to make Calgary his home. Baker arrived in the city yesterday morning. He claims that he did not come to play hockey, but purely on business reasons, but that if he can do a come-back he will be out on the ice again the coming winter. It has been three years since Hammy Baker had the steel blades on. During that time, he has been doing his bit overseas. He went over with the first Canadian division as a member of the Fort Garry Horse. Later he transferred to the flying corps and served many months in Palestine. He holds a commission of lieutenant. It will be remembered in 1912 Baker was very much in the limelight as a hockey player. He helped the Vics win the Allan cup against Calgary, Regina and Eatons of Toronto. Baker was a very fast skater, played the boards well, and had a accurate shot. He wishes it to be known that he was not imported to Calgary to play hockey. "When the season arrives and I find that I can get in shape again, I will probably play," he said last night."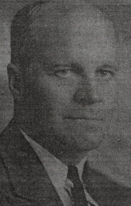 George Hamilton Baker
George Hamilton Baker died at the age of 43. An article was published in the Winnipeg Free Press. G. HAMMY BAKER IS DEAD; VICTIM OF HEART ATTACK Insurance Man and Former Allan Cup Hockey Star Dies Suddenly George Hamilton Baker, widely known insurance man, one of Winnipeg's former champion hockey players, and a veteran of the Great War who was with General Allenby's troops when they entered Jerusalem, died suddenly at St. Boniface hospital Thursday. Afflicted with foot trouble, Mr. Baker had gone to the hospital for treatment. He was in his usual happy frame of mind when he walked from 61 Kennedy, where he had been residing, believing that the treatment at the institution would be effective. At the hospital however, he was overcome by a heart attack. "Hammy" as he was popularly known in his active sports days, made his debut in organized hockey in 1909, an developed into one of the cleverest players Winnipeg has ever had. In 1912 he was a forward with the Winnipeg Victorias when they won the Allan Cup. One of his team mates on the occasion when the Victorias scored their big triumph was his brother, Basil, goalkeeper, who died May 19 last year. Surviving are his wife, and one daughter. The funeral will be held Monday.
George Hamilton Baker and Lillian Durkin had one daughter, Marjorie Baker. Marjorie Baker married John Fansler and had three sons and a daughter. An article was published in the Minneapolis Star and Tribune on thursday July 3, 1986, concerning Marjorie's death. MARJORIE FANSLER, 59, RELIGION SCHOLAR. The article reads; "Marjorie Baker Fansler, 59, a local scholar of Judaism, Hinduism, Buddhism, and Christianity, died Tuesday at Abbott Northwestern Hospital of a heart ailment. Fansler began studying comparative religions after the death of her husband, John Fansler, founder and president of Fuller Laboratories in Eden Prairie, in 1972. She studied in Israel, the Far East and India and often lectured before community and civic groups. She was a guide for several overseas trips sponsored by the University of Minnesota, her son, Davis, said Wednesday. She also was closely affiliated with the Himalayan Institute, a yoga, diet and nutrition center in Honesdale, PA. Fansler was born in Long Beach, Calif., but grew up in Minneapolis. she attended West High School and the University of Minnesota. Besides her son, Davis, Fansler is survived by sons John of Lake Tahoe, Nev., and Thomas of Kansas City, Mo.; a daughter, Jocelyn Monsor of St. Louis Park, and five grandchildren. A memorial service will be held at 10:30 a.m. Monday at St. Martin's by the Lake Church in Minnetonka Beach. Memorials to the Mother Theresa Foundation or the Abbott Northwestern coronary care unit are suggested." Another obituary reveals more details of the family of Marjorie Fansler. As of 1986, John H. Fansler was married to Judith; Davis D. was married to Barbara; Thomas S. was married to Jeanne, and Jocelyn F. Monsor was married to Michael.
Davis Fansler was one of the sons of Marjorie and John Fansler. An article was published when young Davis Fansler visited his grandfather's home town of Winnipeg to play hockey. REALIZING A DREAM, with Maurice Smith In Winnipeg this weekend to play St. John's-Ravenscourt in the first of a three game hockey tournament is the Woodhill bantam team from Wayzata, Minnesota. Normally such information wouldn't be found in this column, but there is a most interesting sidelight to the visit of the American youngsters here. A member of the team is Davis Fansler, who just happens to be the grandson of the late Hammy Baker, still regarded as one of the finest hockey players ever produced in Winnipeg. In a note to this column Fansler's mother wrote: "My son will be realizing some kind of a dream playing in your city. His and my glamorized memory of a man that I, his daughter, scarcely knew and that Davis never knew at all probably makes us ridiculously sentimental and without perspective, regarding this game, though I did think there was a possibility of the events being newsworthy."And it certainly is. Perhaps we would be remiss under the circumstances if we did not briefly review the career of Davis Fansler's grandfather, who succumbed from a heart attack on Jan. 21, 1937 at the age of 43. Son of George W. Baker, a one time police magistrate, Hammy Baker broke into big time hockey directly from shinny games on the Red River in the winter of 1909, joining his brother Basil, goalkeeper for the Vics and also now deceased. Two years later he made the Vics No. 1 team and was one of their brightest stars when they won the Allan Cup in 1912. Baker served in World War 1 with Fort Garry Horse, taking a commission in the Imperial Forces. He was at Solonica on the Bulgarian front and with General Allenby's troops when they entered Jerusalem. Returning to Canada after the war, he played hockey in Calgary for Barney Stanley's team, first in the old Big Four amateur circuit and then in the Western Canada Professional League. He was in business here at the time of his untimely death. We hope young Davis Fansler enjoys his visit to Winnipeg and that he will carry back some pleasant memories from his hockey experiences here.
7. Ralph Dennistoun Baker born April 16, 1895; served as Captain, 29th Squadron, Royal Flying Corps, B. E. F.; married Jocelyn Ottilie Allan on July 7, 1923. He died 1960. Four children were born, George Allan Baker born 1924 who married Norma Woods, Dennis Eastman Baker born 1927 who married Auleen Keenan, Gillian Muriel Baker born 1933 who married Frederick Aird Lewis, Nora Jocelyn Baker born 1946 who married Jean Lavoie.
George William Baker married secondly September 27, 1906, Annie Grime, (born circa 1879) daughter of William Grime and Jane Greenwood, his wife, of Glenwood, Harrogate, England. Annie died in July of 1908. A small article appeared in the Manitoba Free Press on Thursday July 16, 1908 about the death of George William Baker's wife. The article states, "Much sympathy is felt for G. W. Baker in his bereavement. Although Mrs. Baker was in Winnipeg for such a short time, she held a very warm place in the hearts of her many friends and her sweet and bright presence with be very much missed. G. W. Baker and his wife Annie Grime Baker had one son,Paul William Grime Baker who was born June 29, 1908 and died April 6, 1929.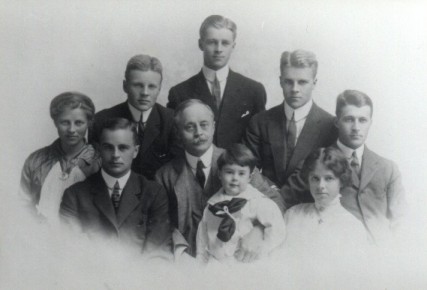 The Family of George William Baker
Photo circa 1911; courtesy of Bruce Varcoe
Back row, from left: Miriam Eastman Baker, Ralph Dennistoun Baker, Henry Ahern Higginson Baker, George Hamilton Baker, Edwin Godfrey Phipps Baker. Front row, from left: Basil Glyn Baker, George William Baker, Paul William Grime Baker, Doris Harward Baker.
George William Baker married thirdly on June 5, 1912, Ursilla Katherine Hay Bell,(1880 - 1928), youngest daughter of Robert Bell and his wife Agnes. They had one daughter, Agnes Ursilla Bruce Baker (1915-1935) and one son, George William Baker born 1917. After the death of her husband in 1917, Ursilla Katherine Hay Bell Baker took her two children to Scotland to live. Her son, George married Marjorie Hamer and had two children, Laurence and Nancy.
The death of George William Baker was reported in the Globe and Mail Tuesday, September 4, 1917 as follows: DEATH OF GEO. W. BAKER. Former Police Magistrate of Winnipeg Passes Away. Keewatin, Ont. Sept. 3- Geo. W. Baker of Winnipeg died at his summer cottage here yesterday of heart trouble, aged sixty-two. He was born in Ottawa in 1854, coming to Winnipeg in 1881. His wife, seven sons and three daughters, survive. Three sons are now at the front and another has returned, while one of the daughters is a nursing sister in England. Mr. Baker was a former Police Magistrate of Winnipeg.
Second Son of Godfrey Phipps Baker and Elizabeth Julia Clements: Godfrey Phipps Baker
Godfrey Phipps Baker was born 1855 and died 1857.
Third Son of Godfrey Phipps Baker and Elizabeth Julia Clements: Frederick Clements Baker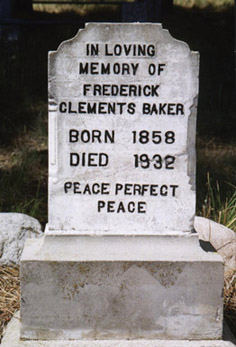 Frederick Clements Baker
Photo courtesy of Robert Hayes, July, 2010
Old Winfield Cemetery, Cemetery Road, Lake Country, B.C.
Frederick Clements Baker, was born August 10, 1858, lived in Okanogan, British Columbia, never married, and died August 18, 1932 at the age of 74. Frederick Clements Baker lived on a farm with his two half brothers, Sydney Bathurst Baker and John Macaulay Hamilton Baker. His occupation was that of a farmer. He had come to British Columbia about 1907, and had lived on his farm since about 1912. The Kelowna Courier and Okanagan Orchardist reported his death under Winfield News. " It is with regret we learn of the death of Mr. F. C. Baker, whose funeral was conducted on Saturday of last week. Mr. Baker was an old-timer and while not in good health for some time his death came as a shock to his many friends." Frederick Clements Baker's death registration reveals that he died of cardiac failure, following a diagnosis of myocarditis and chronic gastritis with a duration of about a year and a half. He was buried on August 20, 1932 at the Old Winfield Cemetery, Cemetery Rd, Okanagan Centre, B. C.

Click here to return to the Baker main page.